We're reader-supported. When you buy through links on our site, we may earn an affiliate commission. Learn More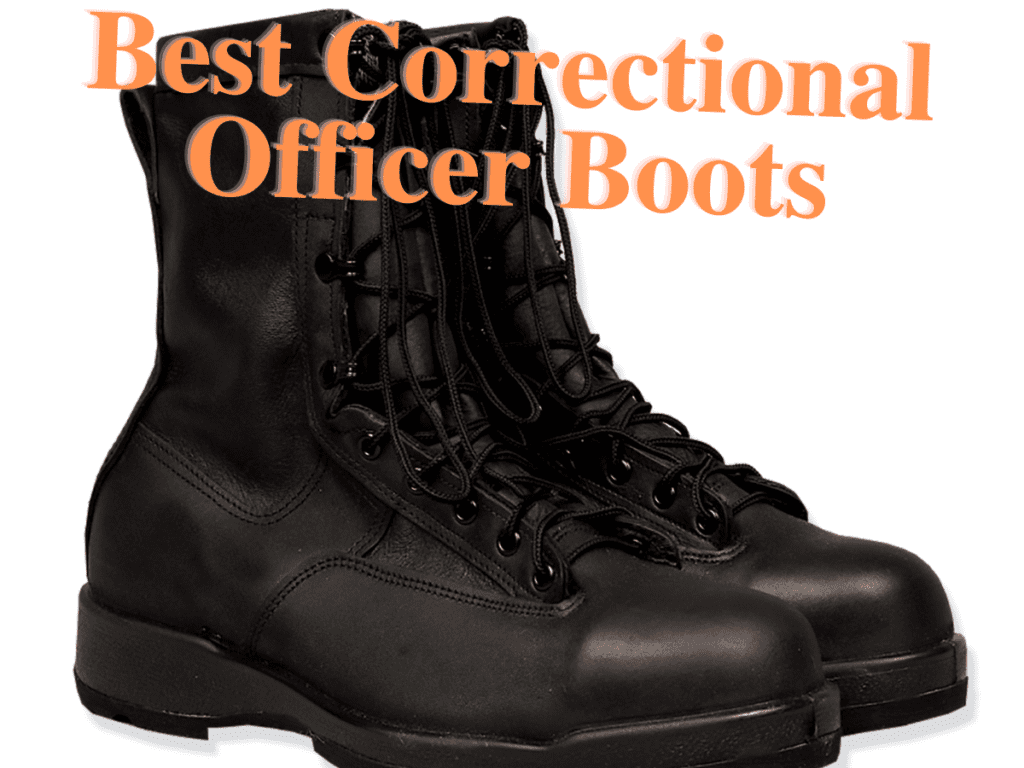 Want to know the best correctional boots on the market? Tactical footwear that offers superior protection, support, and grip is a must for any correctional professional.
With so many boots on the market, it can be difficult to decide which ones are best suited for you.
That's why we've compiled a comprehensive list of the top 9+ tactical boots for correctional officers to help you make an informed decision.
Why Selecting The Right Tactical Boots For Corrections is So Important?
As a correctional officer, you know how important it is to have quality tactical boots that can provide the protection, support, and comfort needed for long shifts and unpredictable situations.
But selecting the right tactical boots for corrections isn't just about comfort alone — it's also about finding a pair of boots that offer superior protection from sharp objects, slip-resistant soles, and plenty of arch support.
In addition to comfort features, you should also consider durability — a tactical boot that can withstand hard duty is essential for any correctional officer.
The 9+ Best Tactical Boots For Correctional Officers
Now that you know why selecting the right tactical boot is essential, let's take a look at 9+ of the best tactical boots for corrections professionals:
The 5.11 Tactical Men's A.T.A.C 2.0 8″ Shield Boot provides enhanced durability with a waterproof leather and nylon upper material.
While the midsole and outsole are crafted from 5.11 ATAC for superior shock mitigation system performance in any environment.
It also features an Achilles flex zone for better maneuverability as well as an Ortholite full-length dual density insoles to provide optimal cushioning and rebound along with a custom comfortable fit all day long!
Slip- & oil-resistant outsoles round off this boot – imported quality that you can trust!
KEY FEATURES:
– Waterproof leather and nylon upper material
– 5.11 ATAC midsole / outsole for superior shock mitigation
– Achilles flex zone for better maneuverability
– Ortholite full length dual density insoles
– Slip & oil resistant outsoles (imported)
– ASTM/CSA CARBON-TAC toe
– ASTM/CSA puncture resistant board
– ASTM 2413-17 M I/75 C/75 EH PR standards
– CSA Z195-09 rated for compression, cutting, abrasion & electrical discharge protection.
The Khyber TR960Z WP 8 Inch Tactical Boots are designed to meet the needs of police officers, emergency medical services and EMT personnel, private security guards, corrections facility workers, and militia members alike.
Crafted with premium cattlehide leather on top paired with ultra-durable Destination P mesh for breathability in warm climates—these boots provide excellent protection against hazardous liquids while still keeping your feet cool.
With its classic 8-inch height that meets military standards, this pair is sure to make an invaluable addition to any work wardrobe.
The EXCLUSIVE, 100% RUBBER VIBRAM IBEX OUTSOLE offers superior flexibility and stability when traversing tough terrains with angled lugs that provide a tactical grip for quick changes in direction.
KEY FEATURES:
– 8-inch height
– Premium cattle hide leather upper
– Ultra-durable Destination P mesh for breathability in warm climates
– 100% rubber Vibram IBEX Outsole
– Military standard compliant
– Slip, oil and abrasion resistant
– ASTM F2913 tested for shock absorption.
The Bates® Shock 8″ Side Zip boot offers excellent protection and support with its strong construction, cushioning, traction, water-resistance, breathability—allowing you to work at your peak performance.
Features include leather/nylon upper with TPU panels for waterproof defense and mesh tongue; a non-metallic profile that provides security clearance while on duty; traditional laces-up design offering the perfect fit as well as YKK® nylon side zipper closure for quick access. Style number: E07008.
Constructed with cement for remarkable adaptability and resilience, this Anti-Fatigue Endurance Performance System offers long-term support and shock absorption.
Additionally, its non-metallic shank offers lightweight assistance as well as stability.
Furthermore, the multi-terrain rubber outsole demonstrates slip resistance while also having a rugged pattern to ensure exceptional traction on any terrain!
The sole has passed SATRA WTM 144 tests for anti-skid properties too. Imported; it weighs 1 lb 9 oz with an 8-inch shaft measurement.
Step into tactical comfort with the 5.11 Men's ATAC 2.0 8″ military boot!
This durable, lightweight boot is constructed from 840D nylon for superior abrasion resistance and features a dual durometer Ortholite footbed complete with an Achilles heel flex zone for added flexibility.
Additionally, it boasts a shock mitigation system along with YKK side zipper closure that'll keep you comfortable throughout your mission!
Ready for action? With a built-in knife pocket, slip and oil-resistant outsole, along with a full grain leather toe—it's easy to see why 5.11 apparel is the perfect choice for both professionals and consumers who need gear that can handle tough missions. So get ready to Always Be Ready!
KEY FEATURES:
– 840D Nylon upper construction
– Dual Durometer Ortholite footbed with Achilles heel flex zone
– Shock mitigation system
– YKK side zipper closure
– Knife pocket
– Slip and oil resistant outsole
– Full grain leather toe for durability
The NORTIV 8 Men's Military Tactical Work Boots offer more than just protection- they provide convenience with their side zipper and hook-loop strap closure making them easy to take on and off.
Their durable leather provides full coverage and the breathable fabric keeps your feet fresh all day long, allowing you to work without worry of fatigue or discomfort. Invest in these high quality boots today for ultimate comfort, security, and style!
The two-sole system of NORTIV 8 shoes provides the perfect balance between comfort and practicality.
A removable, shock absorbent insole allows for all day support while a slip, oil and abrasion resistant out sole offers flexibility to tackle any terrain – be it outdoors or indoors!
Perfect for activities such as camping, climbing, cycling ,fishing ,running or mountaineering; these stylish shoes come with our worry free warranty and excellent customer service that only an American brand like NORTIV 8 can provide.
The WIDEWAY Men's Hiking Boots are designed to provide maximum comfort and convenience. These tactical boots have a wide design that wraps and supports your ankles with 8″ of protection, so you can move around freely without fear of injury.
They also feature a removable front zipper for easy on-off access and an adjustable fit, so you don't need to worry about laces loosening over time or not having the perfect amount of tightness during your next adventure.
With these hiking boots, you'll have all the freedom and confidence needed when exploring new terrain!
Rugged & Resilient: Crafted with supple leather and strong nylon, these military boots are designed to withstand wear and tear.
The flexible EVA midsole provides superior cushioning to reduce foot fatigue when hiking or working, while the slip-, oil- ,and abrasion-resistant rubber outsole ensures traction across any terrain.
Perfect for camping, climbing, cycling, fishing airsoft jungle construction running mountaineering traveling – this mens duty boot is ready for adventure!
These combat boots are designed for maximum comfort and breathability, fitting true to US size. For further accuracy with sizing selection, consult our helpful chart.
The removable shock-absorbing insole provides superb cushioning that will last all day long so you can perform at your peak without discomfort.
KEY FEATURES:
– 8" Ankle-high Protection
– Removable Front Zipper
– Soft Leather and Nylon Material
– Flexible EVA Midsole provides cushioning
– Slip, Oil, & Abrasion Resistant Rubber Outsole
– Shock Absorbing Insole adds support & comfort
– Breathable fabric keeps feet fresh
– Worry-Free Warranty with excellent customer service
– Perfect for outdoor activities and daily work
Invest in a pair of Thowi Men's Military Tactical Boots and enjoy the benefits of water-repellent, breathable genuine cow leather upper for an impeccable professional look.
Not only that, but these army boots also feature man-made handcraft with every nylon eyelet made by hand instead of machine!
The resulting military boot is not only good-looking and breathable, but it was seam-stitched to ensure its long-lasting durability as well.
With our size chart helping you choose the correct fit according to your foot length measurement – you won't have any worries about making a mistake on sizing either.
With unparalleled SLIP RESISTANCE, our men's duty boots are designed to provide maximum grip and stability across any terrain.
A lightweight yet durable rubber outsole is complemented by a supportive shock-absorbing molded EVA sole for added comfort.
The uppers of these black military tactical boots for men feature water-repellent genuine cow leather in combination with nylon fabric that guarantees an unbeatable professional look, ensuring you're ready to take on anything the day throws your way!
KEY FEATURES:
– 8" Ankle-high Protection
– YKK Heavy Duty Side Zipper Closure
– Water Repellent Genuine Cow Leather & Nylon Material
– Lightweight yet Durable Rubber Outsole
– Shock Absorbing Molded EVA Sole adds support & comfort
– Breathable Cambrella Fabric Lining
– Worry-Free Warranty with excellent customer service
– Perfect for outdoor activities and daily work
Reebok Work Men's Rapid Response RB SZ Boot is the perfect choice for any terrain!
Made with an advanced Tailex lining, these 6″ boots provide comfort and maximum arch support no matter where your journeys take you.
The robust leather and Cordura upper ensures that they can handle anything from rocky mountains to bustling metropolises.
Meanwhile, the dual-density rubber outsole provides traction on all surfaces so that you stay safe as well as comfortable!
To reduce fatigue in both your heel and forefoot areas, there's also an F2 Dual Density Polyurethane Insert featuring a thermoplastic polyurethane stabilizer — making this boot not only resilient but reliable too.
The Men's Reebok 6″ Rapid Response RB Side-Zip Boots are designed to provide you with the utmost comfort and protection.
Not only do they feature a cushioned EVA midsole that offers rigidity for an enjoyable stride, but also has a side zipper so you can easily slip them on and off.
Furthermore, these boots come equipped with additional safety features such as soft toes and electrical hazard protocols ideal for dangerous work environments.
They boast dual-density rubber outsoles along with mountain trail rubber bottoms to keep your feet secure in any terrain or condition – all topped off by removable F2 dual-density polyurethane insoles that offer superior cushioning every step of the way!
KEY FEATURES:
– 6″ Ankle-High Protection
– Smooth Leather and Cordura Upper
– Dual Density Rubber Outsole for Traction on Any Surface
– Mountain Trail Rubber Bottom
– Cushioned EVA Midsole & Removable F2 Dual Density Polyurethane Insert For Added Support
– Thermoplastic Polyurethane Heel Stabilizer
– Shock Eliminator Heel Cushion
– Tailex Lining & 100% Nonmetallic Construction
– Electrical Hazard Safety & Soft Toe Design
– Ideal for High-Performance Activities in the Outdoors and in Dangerous Work Conditions.
CQR Men's Military Tactical Boots are an ideal choice for military and law enforcement personnel.
Featuring a 3D structure ankle that provides superior protection while wrapping and supporting the ankles, as well as a hardened eyelet metal lacing system to make tying easy without tears.
The boots also contain premium insoles with endless cushioning and comfort along with solid-grade heel support providing both protection and comfortability in any terrain or environment.
Finally, their all-terrain outsole absorbs shock from foot strikes making them perfect for challenging conditions.
Perfect for the military, tactical training, hunting, paintballing, and more – this is an optimal choice if you are looking to enjoy a day outdoors.
KEY FEATURES:
– Solid-Grade Heel Support
– Premium Insoles with Endless Cushioning
– 3D Structure Ankle Provides Superior Protection & Unparalleled Comfort
– Hardened Eyelet Metal Lacing System Stays Tied Without Tears
– All Terrain Outsole Absorbs Shock from Foot Strikes.
– Perfect for Military, Tactical Training, Hunting, Paintballing, and More.
– Durable Rubber Outsole for Grip on Any Surface.
Discover the unbeatable combination of durability and comfort with Under Armour Men's Valsetz RTS 1.5 Military and Tactical Boot.
These military-grade footwear are trusted by men and women in uniform all around the world to provide exceptional performance, crafted from 100% fabric or textile along with a leather sole that measures approximately 1.5 inches, creating boots designed for any outdoor activity you can imagine!
With an approximate shaft height of 6.75 inches above arch while opening up to 10.5 inch circumference, these durable tactical boots are sure to be your go-to choice when adventuring outdoors!
UA ClutchFit ankle support system will keep you supported during any activity! These boots also feature a Thermoplastic polyurethane (TPU) toe cap to ensure extra protection with every step.
An added bonus? A welded polyurethane (PU) film that surrounds the perimeter of these boots is abrasion resistant so they'll last long-term. Plus 4E Sizing ensures an optimal fit even for athletes with wider feet!
KEY FEATURES:
– UA ClutchFit ankle support system contours & provides supports
– Thermoplastic polyurethane (TPU) toe cap for added protection
– Welded PU film surrounds the perimeter of the boot for abrasion resistance
– Molded Ortholite sockliner
– Ultralight Micro G EVA midsole for all day comfort
– Lightweight, durable synthetic leather & updated textile upper
– 4E Sizing built to better fit athletes with extra wide feet.
– Durable rubber outsole for grip on any surface.
– Breathable materials keep your feet cool and dry even in the toughest conditions.
Final Thoughts
Tactical boots for correctional officers are a key piece of equipment for any job in law enforcement and security.
With the right pair, you get the protection and comfort you need to stay safe and perform your best.
We've highlighted some of our favorite boots designed specifically with correctional officers in mind, ranging from lightweight models to more rugged options depending on what type of terrain you'll be dealing with on any given day.
No matter which boot you choose, make sure you find one that fits your feet properly, provides the necessary support and traction, and is durable enough to last a long time. Your feet will thank you!
FAQ About Correction Officer Boots
Below you can find additional information about the best tactical boots for correctional officers:
Q: What kind of materials should I look for in a pair of correction officer boots?
A: Look for high-quality materials such as synthetic leather, updated textile uppers, and durable rubber outsoles.
Also check to see if they have features like Thermoplastic polyurethane (TPU) toe caps, welded PU films, and molded Ortholite sockliners for extra protection and comfort.
Q: What are the best kind of boots for correctional officers?
A: The best kind of boots for correctional officers depends on the environment they'll be working in and their individual needs.
Generally speaking, tactical boots with thick, slip-resistant soles and reinforced toe boxes are ideal for law enforcement officers as they provide superior protection.
Q: Are there any special features to look for when selecting a pair of correction officer boots?
A: Yes! Look for waterproof or water-resistant materials, anti-slip soles with deep treads to help keep you surefooted on slick surfaces, and steel or composite toe caps that provide extra protection from objects that might fall onto your feet.
Q: What other factors should I consider when selecting a pair of correction officer boots?
A: Comfort is key for long days on your feet. Look for lightweight materials, breathable linings, and ankle support to help keep you comfortable during your shift.
Q: Are there any other tips to help me find the best boots for correctional officers?
A: Yes! When possible, try on a few different pairs of boots and walk around in them before making your purchase. This will help you ensure that they fit correctly and provide the right level of support and comfort.
Q: Are there any other products I should consider for correctional officers?
A: Yes! In addition to boots, you may want to consider uniforms, belts, and protective gear like vests or gloves depending on the specific tasks that your job requires.
Q: Any non-profits that help correctional officers?
A: Yes, there are a number of non-profits dedicated to helping law enforcement and corrections officers. One such organization is the National Law Enforcement Officers Memorial Fund (NLEOMF), which provides financial assistance to families of fallen or injured officers.