We're reader-supported. When you buy through links on our site, we may earn an affiliate commission.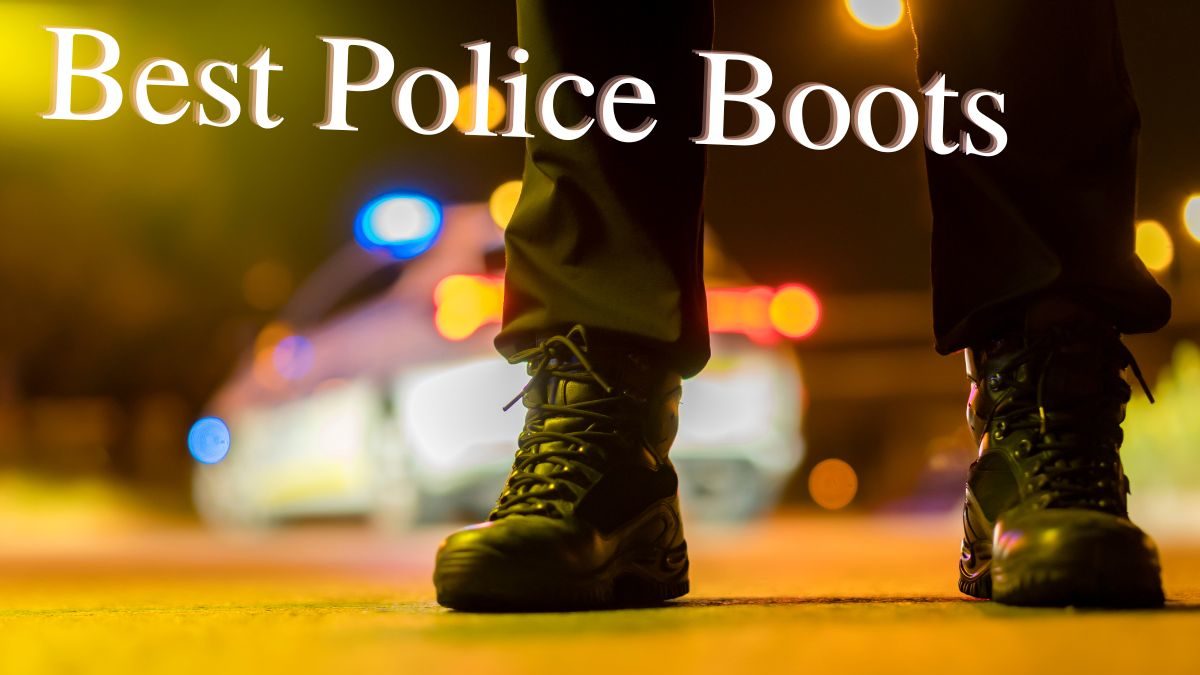 Police officers have one of the most demanding jobs in the world. Not only do they need to be able to handle difficult situations, but they also need to be well-equipped for anything that comes their way.
There are a lot of options out there when it comes to finding the perfect pair of boots for law enforcement professionals, but most of them lack in quality or durability.
These 9+ best police boots come with high-quality construction and long-lasting durability that will last you through years of tough wear and tear.
Top 9+ Best Police boots of 2023
Below is a list of the eight best police boots that are both durable and comfortable. They are designed to provide officers with the support they need for their demanding job.
The Bates Gx-8 Gore-tex Military & Tactical Boot is designed specifically for the rigours of military and law enforcement.
It features a durable, waterproof Gore-Tex liner that seals out water while allowing your feet to breathe, wicks away perspiration, and keeps you dry in wet conditions by offering unmatched breathability/quick-dry properties.
A patented side zip provides easy on/off use with thick leather upper material – reinforced to stand up to intense wear and tear. All seams are airtight construction for maximum protection against the elements.
The latest design enhancements make this bootless abrasive during long marches due to its reduced surface area contact with the ground compared to other boots, especially when carrying substantial weight loads or fluctuating temperatures (extreme hot or cold weather conditions).
The slip-resistant rubber outsole with a lug pattern gives you stability on a variety of surfaces, while the cement construction provides long-lasting durability.
The Bates Men's Gx-series Gore-tex Waterproof Side Zip Military & Tactical Boot is available in both regular and wide widths, ensuring a comfortable fit for everyone.
So if you're in the market for a tough, good-looking and long-lasting police boot – look no further than the Bates Gx-series Gore-tex Waterproof Side Zip Military & Tactical Boot!
Key features
Gore-Tex waterproof
Sturdy leather upper with nylon overlay for durability
Shock-absorbing comfort system to reduce fatigue on long walks or difficult terrain
Heavy-duty lugged Vibram sole designed specifically for outdoor conditions
The Under Armour Micro G Valsetz Tactical Boot is a lightweight piece of footwear that is made to last and keep you comfortable, no matter the terrain.
Featuring an all-synthetic leather and textile upper along with welded forefoot overlay and molded TPU toe cap for extra protection, it also provides pull loops at the heel & tongue for hassle-free wearability.
But this isn't just your ordinary boot: full-length Micro G foam midsole ensures maximum cushioning responsiveness while oil-/slip-resistant rubber lug outsole guarantees superior grip in any environment!
If you're looking for a reliable and comfortable pair of boots, look no further than the Under Armour Micro G Valsetz Tactical Boot.
This boot is designed to provide maximum comfort with its padded collar and tongue as well as heel support structure that ensures lasting stability.
With a package dimension of 13.94 x 10.94 x 5.04 inches and 2.49 pounds weight, this boot will surely be an invaluable asset to your police attire.
Key Features:
All synthetic leather and textile upper
Welded forefoot overlay & molded TPU toe cap for extra protection
Pull loops at the heel & tongue
Oil-/slip-resistant rubber lug outsole
Full length Micro G foam midsole
Padded collar and tongue
Heel support structure for lasting stability
The NORTIV 8 Men's Military Tactical Work Boots Side Zipper provides superior protection and convenience with its ankle-high guards that wrap around the ankles.
The YKK side zipper, coupled with a hook-loop strap closure, makes it easy to put on/take off these durable boots.
Additionally, they have a breathable fabric that keeps your feet cool and dry while its high abrasion-resistant leather offers maximum comfort as well as long-term protection for any activity.
NORTIV 8 Men's Military Tactical Work Boots Side Zipper's Dynamic 3-sole system is ideal for a variety of activities both indoors and outdoors, offering maximum comfort.
With a removable cushioned insole, an EVA mid-soles that absorbs shock and reduces fatigue, as well as an oil & slip-resistant rubber outsole.
Enjoy any activity from work to camping or mountaineering with confidence, knowing you'll have the utmost support!
As an American brand dedicated to providing quality, outdoor shoes, we guarantee your satisfaction with our worry-free warranty and friendly customer service.
Key Features:
Ankle-high guards
YKK side zipper & hook-loop strap closure
Breathable fabric that keeps your feet cool and dry
High abrasion resistance leather
Dynamic 3 sole system for comfort, shock absorption, and slip resistance
Removable cushioned insole
Oil & slip-resistant rubber outsole
Worry-free warranty and friendly customer service.
The Bates 8″ Ultralite Tactical Sport Side Cable Boot is a lightweight, breathable boot built for tactical operations. This boot offers the ultimate flexibility with features like easy-on side zippers and an anatomically padded collar.
It has a slip-resistant rubber outsole with deep lugs to give you traction on any surface. It also uses energy absorbing polymer foam that works as both insulations or cushioning depending on how you step down.
These boots are perfect for military personnel, law enforcement agents, agricultural workers, wildland firefighters and construction workers looking for safety but comfortability during their workday.
Key Features
Super Comfortable
Equipped with breathable mesh
Made up of authentic leather to ensure durability
Protective
Sporty
Great ankle support
Non-skid sole
The Under Armour Men's Stellar military tactical boots are made of full-grain leather for all-around wear. The textured mesh lining ensures great breathability with the flexibility to maximize comfort. It also features a removable insole providing lasting good looks and optimal performance when worn with thinner socks.
A padded collar provides extra ankle support, giving you the confidence that these police boots will stand up to whatever duty throws at them.
Mesh vents on the side provide additional ventilation for warmer climates while maintaining durability. The Quick-dry minimalist design is perfect for use in wet environments and is also polishable.
Key Features
Military-grade outsole is made of moulded, durable rubber
Abrasion-resistant mesh on the upper prevents wear and tear
Hugs your heel for a snug fit that feels like you're walking on pillows
Breathable lining to keep feet dry and happy
Generous padding gives plenty of cushioning–even with high arches
The FREE SOLDIER Men's Waterproof Hiking Boots are a pair of comfortable boots with a rubber sole. These waterproof footwear allow your feet to stay dry from puddles and light precipitation.
Made from high-quality materials that won't break down over time or set off metal detectors in airports, these durable military boots can be used for both work and leisure activities.
These versatile black water-resistant hiking shoes have rigid mesh panelling on the front which can be folded down when not needed, as well as air holes at the top which offer breathability so your skin doesn't sweat inside them. They come in three sizes: small, medium-sized and large size.
The FREE SOLDIER Men's Waterproof Tactical Boots are a great option for those looking for police boots that can be used in multiple settings and last a long time without breaking down.
The rubber sole offers good traction, while the high-quality construction ensures that these shoes will withstand even the most strenuous activities. And, finally, the versatile black colour means that these boots can be worn formally or casually without looking out of place.
Key features
1. The boots are made of tough and durable suede leather.
2. They have a waterproof and breathable membrane that ensures your feet stay dry in all weather conditions.
3. The boots come with a padded collar and tongue for extra comfort.
4. They have a sturdy grip that allows you to walk on any surface, whether wet or dry.
5. The lightweight tactical boot, are comfortable to wear for long periods of time.
The Maelstrom Men's PATROL 6″ Tactical Duty Work Boot is perfect for law enforcement, security personnel, and anyone who needs a tough and reliable boot.
The full-grain leather and nylon construction ensures durability and long-lasting wear, while the side zipper makes it easy to get the boot on and off.
With a moisture-wicking lining, this boot will keep your feet dry and comfortable all day long. The non-metallic safety toe meets or exceeds ASTM safety standards for protection from impact and compression injuries. The slip-resistant rubber outsole provides traction on wet or icy surfaces.
Key features
1. The boots are made of durable leather and nylon.
2. They have a breathable mesh lining that helps keep your feet cool and comfortable all day long.
3. The boots feature a steel toe for protection against impacts and dropping objects.
4. They lace up quickly and easily so you can be on your way in no time at all.
5. The soles are slip-resistant, ensuring that you stay safe on wet or icy surfaces.
The Danner Tacyon GTX Duty Boot has a GORE-TEX lining, and is styled for tactical operations. The Tachyon 8″ GTX Duty boots protect your feet with their ANSI Z41 1/75 EH rating, so you can march around in any condition.
They're made of leather that surrounds the entire boot to provide protection against water or wet ground.
The Boa Q3 system keeps them snugly closed around your feet without laces while providing the flexibility you need during use.
And since durability matters when it comes to shoes worn outdoors all day long, these boots provide traction on any surface including rocks with their Vibram Furo Terra outsole soles which are made from 27% recycled rubber.
What's not to love about a tough, good-looking boot that keeps your feet dry and comfortable? With the Danner Men's Tachyon GTX Duty Boot, you'll have one less thing to worry about on your next tactical operation.
Key Features
1. These boots offer a Gore-Tex waterproof lining, so your feet will stay dry even in wet weather
2. The Tachyon GTX is made of full-grain leather and nylon mesh for durability and breathability
3. This boot features lace hooks to keep laces out of harm's way
4. The upper on these boots is designed for added ankle stability
The Smith & Wesson Men's Breach boots are popular tactical boots built to take on the toughest terrain imaginable, providing years of reliable service for heavy-duty tasks in law enforcement, military and special operations.
The zip fastener provides excellent airflow circulation that prevents excessive sweating and discomfort when you're wearing them all day in hot weather conditions.
The full-grain leather uppers are treated with a waterproof membrane for increased durability against abrasion from walking through mud or running water.
These boots use an Air System cushioned footbed which provides comfort while allowing your feet to breathe without feeling too loose inside the heel area where sloppy fillers can come out with long usage after months of breaking time.
The oil & slip-resistant outsole provides reliable traction on wet or icy surfaces, making these boots perfect for use in cold weather conditions.
The Smith & Wesson Men's Breach Tactical Zip Boots are a great option when you need a tough, durable boot that can handle any condition while providing all-day comfort.
Key features
1. Smith & Wesson Men's Breach 2.0 Tactical Size Zip Boots – 9″ is lightweight and comfortable
2. The boots are made with a durable suede and nylon fabric
3. They have a breathable air mesh lining
4. The soles are slip and oil resistant
5. The boots have YKK zippers
The 5.11 Men's ATAC 8In Boot-U is a tough, versatile and great-looking police boot that will perform in any situation. The full-grain leather and nylon upper are durable and breathable, while the OrthoLite insoles provide all-day cushioning and support.
The non-metallic construction makes these boots ideal for covert operations or searches, and the slip-resistant outsoles provide traction on any surface. Whether you're on duty or off duty, the 5.11 Men's ATAC 8In Boot-U is an excellent choice for law enforcement professionals. These shoes feel like a hybrid of tennis shoe and work boots.
The boots are available in black or coyote brown, and they come in a variety of sizes from men's six to sixteen. They're also backed by a one-year warranty. If you're looking for an excellent pair of police boots that will perform and look great, the ATAC Boot-U is a great option.
Key features
1. The boots are made with premium quality leather which makes it a durable option.
2. It features an 8" inch height that offers good ankle support and protection.
3. The boots have a slip-resistant sole which is great for wet or icy surfaces.
4. This design also includes a side zipper for easy on and off access.
Factors to consider when buying police boots
Size
When looking for a new pair of police boots, it is important to consider the size. Boots that are too tight can cause discomfort and lead to blisters, while those that are too loose can cause you to trip and fall.
The key is to find a pair of boots that fit snugly but are not too tight. You should be able to wiggle your toes inside the boots and move your feet around comfortably.
When trying on police boots, make sure you wear the same type of socks you will be wearing when you wear them in uniform. Also, be sure to walk around in them for a while to test how they feel. Take the time to find a pair of boots that will keep your feet comfortable all day long.
Zippers & Laces
There are a few things to consider when deciding between laces and zippers on police boots. Laces provide more flexibility in terms of fit, as they can be tightened or loosened to accommodate wider or narrower feet.
They also allow the wearer to customize the height of the boot shaft, which may be important for those who wear their pants over their boots.
On the other hand, zippers are quicker and easier to put on and take off, making them ideal for officers who need to frequently change into and out of their boots.
Zipper closures are also more durable than laces, as they are less likely to loosen or come undone over time. Ultimately, it comes down to personal preference and what works best for each individual officer's needs.
Durability
When it comes to durability, leather is much more durable than synthetic materials like plastics. It also doesn't conduct electricity as much as synthetics do which means you're less likely to get an electric shock if one of those stray currents pass by your feet or touch the ground after arcing through something it shouldn't have. There are different levels of durability too; from low durability which lasts 2 years up to 20+ years!
When considering durability, also think about how the boots will be used. If they'll primarily be used indoors or in temperate climates, then a less durable boot may suffice.
But, if you'll be using them outdoors in extreme weather conditions, then you'll need a boot with a higher level of durability.
Price
Police boots are typically manufactured for law enforcement which makes the inevitable wear and tear that much more intensive.
The department's financial budget will play a big role in what type of boots they buy because there is no point in paying hundreds of dollars for something they expect to be gone after six months.
Nowadays, companies like Wolverine still make better police duty boots than standard hiking or hunting boots, but these tend to be around $450 per pair or more whereas you can find some good non-leather duty boots online at places like Amazons' website, Merrells' website (for cheap), etc.
Warranties
Usually, manufacturers will offer a warranty on their products in order to ensure customer satisfaction. The length of the warranty and what is covered can vary from one manufacturer to another.
It is important to read the terms and conditions of any warranty or guarantee before you make your purchase so that you know exactly what you are getting.
Material
Patrol Officers require the best police boots to protect their feet while out on patrol. The material of choice for police boots is leather because it has natural durability and water resistance.
For optimal comfort, wear-resistance, and protection, choose a boot that also offers insulation in cold weather climates.
Leather or nubuck are often more breathable than unlined styles because they should be worn unlaced; to prevent blisters save them for warmer days when dryness isn't an issue to consider.
Brand
You also need to think about the brand's reputation and history. Some brands have a long history of producing quality police boots that meet the needs of law enforcement professionals.
Other brands may not have as much experience but may offer products at a lower price point. It's important to weigh all of the factors when making your decision so that you can find the best police boots for your needs.
Why Do Law Enforcement Need Boots?
Law enforcement officers need the best boots possible to perform their jobs safely and effectively. The wrong footwear can lead to serious injury out on the streets.
Police boots need to be tough, durable, and comfortable enough to wear for hours at a time. They also need to look professional and polished so that they can make a good impression when interacting with the public.
Final Thoughts
Police boots are designed to be durable and tough, able to handle a variety of challenging environments. They undergo rigorous physical testing before they can be put into service, so you can trust that they will hold up against whatever you might encounter on the job.
To help you find the best pair for your needs, we've compiled a list of our top eight picks that both look and perform great.
Whether you're looking for a rugged option perfect for the outdoors or a sleek design that will complement your uniform, there is something for everyone on this list.
Frequently Asked Questions
What are the boots that police wear?
Police officers typically wear tactical or duty boots that provide comfort, support, and durability during long hours on the job.
These boots often feature slip-resistant soles, reinforced toes, and ankle support for added protection.
What is the best duty boot?
The best duty boot varies depending on individual preferences and needs. Some popular options include Bates Gx-8, Under Armour Micro G, and NORTIV 8 Tactical Side Zipper Factors to consider when choosing a duty boot include comfort, durability, traction, and support.

Who makes police boots?
Several reputable companies manufacture police boots, including Danner, 5.11 Tactical, Bates, Under Armour, Bates, and Rocky.
These brands specialize in creating high-quality footwear designed for law enforcement and military use.
What is special about tactical boots?
Tactical boots are designed to provide optimal performance, durability, and comfort in demanding situations.
They often have features such as reinforced construction, slip-resistant soles, waterproof materials, and breathable linings.
Additionally, they offer support and protection for the foot and ankle during long hours of standing, walking, or running.
What tactical boots do Sheriff's Deputy use?
Sheriff Deputies often use tactical boots from various manufacturers, depending on personal preference and mission requirements.
Some popular choices include Salomon, Under Amour, LOWA, and Bates. The key factors for deputies are durability, comfort, and functionality in various environments.

Can civilians wear tactical boots?
Yes, civilians can wear tactical boots. Many people choose to wear tactical boots for outdoor activities, work, or everyday use due to their comfort, durability, and support.

Why are tactical boots so expensive?
Tactical boots tend to be more expensive than regular boots because they are made with high-quality materials and designed to withstand harsh conditions.
They often feature advanced technology, such as waterproofing, insulation, and reinforced construction, which can increase the cost.

Are combat boots and tactical boots the same?
Combat boots and tactical boots are similar but not identical. Combat boots are specifically designed for military personnel and are built to withstand the rigors of battle.
Tactical boots, on the other hand, are designed for law enforcement, military, and civilian use, providing durability, comfort, and support in various demanding situations.
Is it legal to wear tactical boots in public?
Yes, it is generally legal to wear tactical boots in public. Tactical boots are often worn by civilians for various purposes such as work, outdoor activities, or everyday use due to their comfort, durability, and support.
There are typically no specific laws or regulations prohibiting the wearing of tactical boots in public spaces.
However, it's always a good idea to be aware of local laws and use common sense when wearing any tactical gear in public to avoid causing alarm or misunderstandings.