We're reader-supported. When you buy through links on our site, we may earn an affiliate commission.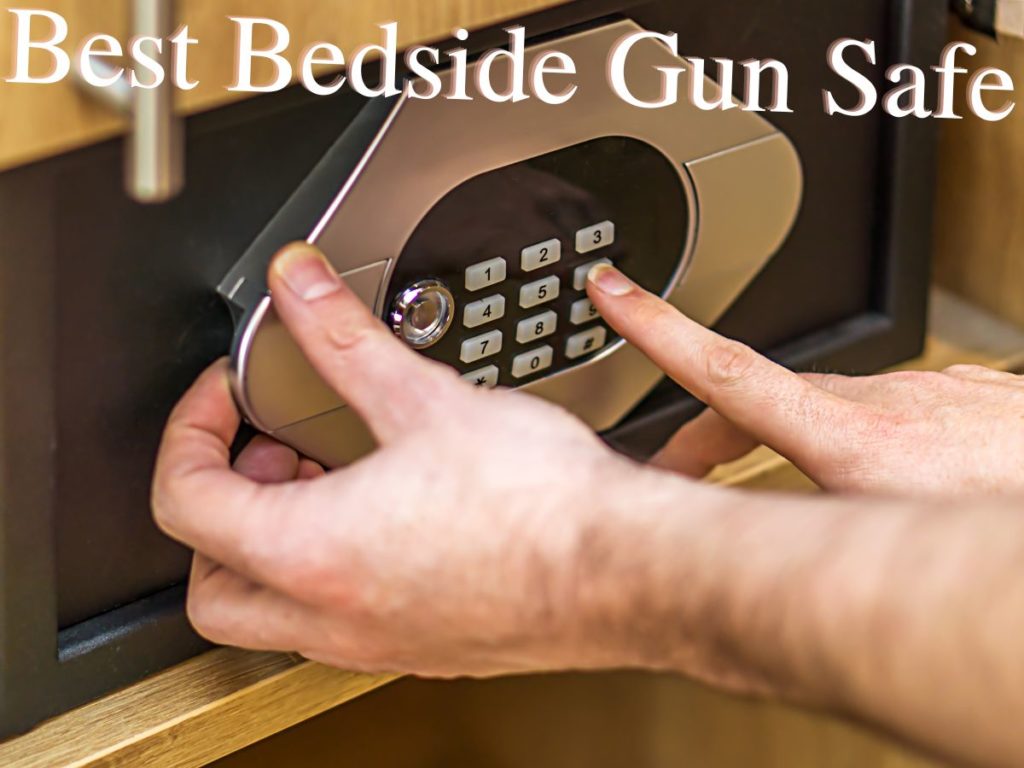 Are you looking for a secure way to store firearms in your home? If so, investing in a bedside gun safe is an effective and reliable option.
With their benefits such as accessible storage, quick access in the event of emergency situations, and enhanced security measures, it's no wonder why many gun owners are turning to this solution.
In this blog post we will explore the various features of bedside gun safes, what to consider when purchasing one, and some benefits they provide that other firearm storage methods lack.
Here are the top 11 best bedside gun safes in 2023:
What is a Bedside Gun Safe?
A bedside and/or nightstand gun safe is a small, locked cabinet accessible only by you or other authorized people.
Designed to hold your bedside firearm(s) securely and be easily accessible in the event of an emergency, they protect both you and your family from harm at night, while keeping your firearms out of young children's hands.
The 11 Best nightstand Gun Safes in 2023
Below, we review 11 of the best nightstand gun safes to help you determine which one is right for your needs and budget.
The VAULTEK VT20i Biometric Handgun Safe is a great nightstand gun bedside safe for the money.
It's made from tough 16-gauge carbon steel and has a powder-coat finish to make it difficult to break or pry open.
This design also makes it easy to find in the dark with the illuminating biometric scanner keypad.
The VAULTEK VT20i handgun safe is equipped with Bluetooth technology that allows you to access your safe remotely from a smartphone or biometric scanner.
You can read all of your past entries, tamper detection, battery power levels, and more!
The battery may last up to 3 to 4 months when charged. Features like this make it perfect for your nightstand gun safe!
The Vaultek VT20i is a great addition to your home, with its tough construction and endless benefits.
You'll be able to keep up an organized history of all entries, will always know if someone has put their hand on the biometric scanner, and you'll never have to worry about forgetting the combination to your safe – just look at your phone!
With all of these amazing features, this biometric handgun safe is perfect for the money.
Features
The frame is made of 16-gauge carbon steel with a powder-coated finish to avoid corrosion.
An easy-to-carry design to store a gun, magazine, and other valuables.
With the security cable provided in the package, it may be attached to a desk or nightstand.
For fast access, the lid opens automatically.
Anti-pry bars with hidden interior hinges, as well as double anti-impact latches for improved security
It has a user-friendly and intelligent, safe technology that works with your smartphone.
A rechargeable lithium-ion battery with a 6-month standby time when fully charged
An LED interior lighting for viewing the contents of the safe at night
When your hand comes into contact with the illuminated keypad, a proximity sensor activates it.
When it comes to finding the perfect nightstand gun safe, serious gun enthusiasts demand the best quality for their money.
The Hornady RAPiD Firearm Safe With RFID Instant Access is one of the best bedside diversion handgun storage units on the market today.
This safe uses an RFID access mechanism that allows quick and effective control of the unit – you can wear the RFID fob on your wrist, but to open the safe, you have to direct the fob to the display on the unit.
This innovation is more effective than biometric technology, as it doesn't require any contact with the safe in order to access its contents.
Features
Touch-free access that is quick and dependable
A tamper-proof, high-quality steel body that exceeds safety standards
Keypad entry is easy and quick.
With mountable hardware, it's simple to set up.
When it comes to finding the perfect nightstand gun safe, nothing compares to the V-Line 2597-S Desk Mate Keyless Security Box.
This compact safe is made with steel and a keyless simplex locking system, which means that it operates without batteries or keys.
The front opening door also features quick-release brackets for instant access. And if you're worried about installing your safe in a strategic location, don't worry – the mounting system makes it easy to install almost anywhere.
Plus, the interior features a padded compartment to protect your weapon and other valuables from scratches.
So if you're looking for the best nightstand gun safe on the market, the V-Line 2597-S Desk Mate Keyless Security is a good one.
Features
For toughness, the paint is black powder-coated.
5-button mechanical lock with up to 1081 combinations of codes that can be programmed.
Quick-release brackets on the door allow for simple entry and exit.
The inside is padded to prevent your weapon, and other valuables from getting scuffed.
For strength and security, the railings come with pry-resistant supports.
The key lock was reinforced with a steel block welded on.
(1) year warranty
When it comes to finding the perfect nightstand gun safe, there are a few things that you should consider.
The first, and most important, is the level of security that you need. There are a variety of different nightstand gun safes on the market, so you can find one that fits your specific needs.
If you're looking for a high-quality safe that will provide maximum security for your firearm, the SentrySafe Quick Access Biometric Gun Safe is a great option.
This model features advanced biometric thumbprint technology, which prevents unauthorized access to your handgun.
It's also built with solid steel and a pry-resistant design, making it virtually impossible to break into.
The SentrySafe is portable and opens with a gas piston to provide instant access to your firearm.
It comes with an override key and secondary electronic lock, in the event that the biometric fingerprint scanner doesn't respond.
The interior of this model has a soft foam lining, which protects your firearm from scratches.
Key Features
Locking strut for fast access to your weapon.
It has a robust steel frame and a pry-resistant door for added protection.
The fingerprint scanner on the front door provides added security by biometrically verifying who is entering.
The digital keypad is equipped with backup keys, in case you have trouble opening the safe.
To protect the interior, it has a soft-touch foam coating.
It's the greatest option for a bedside gun safe.
The Awesafe biometric gun safe is a heavy-duty and small firearm storage container. It can store just one handgun, making it handy for accessing the contents fast.
The Awesafe biometric gun safe is made of solid steel construction with an anti-pry door and is durable.
The lock is accessed via a combination of words, fingerprints, and keys.
The digital keypad is straightforward to use, but biometric access is time-consuming.
Accepting up to 30 fingerprints will allow you to give access to other family members.
This nightstand gun safe is well made and has a sturdy locking mechanism. This low-profile bedside table is inconspicuous.
The gas strut opens the door quietly and swiftly, while the interior LED illumination provides illumination.
Backup keys, mounting screws, and AA batteries are included in the package.
There's a bigger version of this security gadget that can accommodate up to two large handguns.
Features
For durability, this handgun safe is constructed of solid steel.
With a more sophisticated locking mechanism, the pry-resistant door provides protection against intruders.
The safe door allows you to access your weapon quickly with the gas strut.
The interior LED light aids in nighttime visibility.
It can accommodate two common handguns.
The First Alert DSTN-20 provides quick access to its contents. It has a keypad with illuminated buttons that you can use to input your code.
The locking mechanism deactivates and unlocks the door when you enter the correct passcode. A spring-loaded device on the door hinges releases this door.
The First Alert 5200DF nightstand gun safe is tough to pry open or break. The pistol safe also has a steel security cable for wall or floor installation.
The foam within the inner lining protects your firearm from scuffs and scratches.
Features
It's made of sturdy 18-gauge powder-coated steel for long-lasting use.
It has a 3 to 8-digit keypad code as an entry requirement.
The casket's interior is made of foam, which protects your valuables from dents.
Spring-loaded door with a more secure locking mechanism for quick access.
It includes pre-drilled mounting holes and a steel cable for simple installation on floors or shelves.
When it comes to finding the perfect nightstand gun safe, nothing is more important than quality.
That's why serious gun enthusiasts demand the highest quality safe for their money. And the GunVault GV1000S Mini Vault Standard Pistol Storage Unit definitely delivers.
This top-of-the-line firearm storage device is built with tough 16-gauge steel and features a front drop-down opening.
It's also portable, so you can easily install it on a desktop, tabletop, or shelf.
The GunVault GV1000S Mini Vault standard gun safe is even equipped with mounting hardware, so you can mount it almost anywhere in any direction.
Features
For protection and longevity, the steel body is 16 gauge solid.
A spring-loaded, tamper-proof hinged security door
It has a foam-lined interior to protect the finish from dents and scratches.
Due to its size, it may be used in almost any location.
For quick access, there is a pre-programmed access code.
This is the most well-designed bedside pistol safe available.
The GunVault SV-500 Speed Vault includes a detachable drop-down drawer for quick access to your weapon in low light conditions.
It's made of strong, long-lasting steel. With the foam lining on the inside, your firearm is protected from scratches.
To secure your weapon, it utilizes a keypad lock with a four-button passcode.
The higher version of it uses a biometric locking system that must be accessed with a finger scan.
If you forget your passcode, the GunVault Speed Vault nightstand firearm safe has a key backup.
It's suitable for use at bedtime, but can also be placed in various locations within the house.
Features
Anti-pry body constructed of solid 18-gauge, anti-pry steel
It may be positioned virtually anywhere because of the many mounting components.
Interior of coated soft foam for protection against damage to your gun.
Backup override keys are included.
Interior lighting is used to illuminate the content of the safe at night.
It has a low battery warning light built-in.
The Fort Knox PBI nightstand gun safe is one of the best bedside pistol safes. They are attractive, durable, and reliable access. It's built with a thick 10-gauge solid steel construction and a pry-resistant door.
The Fort Knox safe is easy to use and gives quick access to your firearm. The mechanical lock is released when the push button is pressed.
Unauthorized persons can't gain access to it because the push-button lock contains 1,081 passcode combinations, which is difficult to guess. All you have to do is select your code and turn the knob to your right.
The powder-coated antique silver exterior gives it a classy look and durability. If you need a sturdy gun safe with a Simplex locking mechanism, the Fort Knox PBI is the best bet.
The opening and closing of the lid are not difficult, thanks to the gas strut feature. You can have access to your weapon while in bed, since it opens from the top.
The interior of the safe is padded with a thick foam that holds items in position when the unit is locked. It has a spacious interior that stores two standard-size guns.
This storage unit has four pre-drilled mounting holes with a cable lock or lag bolts, to install the safe to the floor.
Gun owners often want to keep their weapons close at hand, but not so close that they are always in the way.
There are many contraptions on the market that offer various levels of storage for weapons. One which is gaining popularity is the Fort Knox PBI nightstand gun safe.
The Fort Knox is a high-quality nightstand firearm storage. The Fort Knox PBI is made with 10 gauge steel and has a pushbutton locking mechanism.
The Fort Knox is designed with an attractive antique silver powder coat finish, which makes it look more stylish than other options on the market.
Additionally, the Fort Knox PBI includes an easy to use mechanical lock system with 1,081 possible combinations for your code.
The Fort Knox is also designed so that you can have quick access to your firearm from the bed.
There's no need to search around on the floor when you want to use your weapon in a hurry.
In addition, it has a gas-strut feature which makes opening and closing easier than other safes on the market.
It also keeps its contents tightly secured with an interior padded foam that fits two standard size guns easily while still having some room left over.
Features
-Attractive design
-Pry-resistant door
-1,081 possible code combinations
-Quick access to your firearm
-Easy to use
-Gas strut feature for easy opening and closing
-2 standard-sized guns can be stored at once
-10 gauge steel construction
-Antique silver powder coat finish
The Stack-On PDS-500 is the perfect nightstand gun safe for the money.
bedside handgun safes are very popular amongst gun enthusiasts who are seeking to buy state-of-the-art!
One of the main concerns amongst most serious gun owners is whether they are spending their money on a quality safe.
The Stack-on PDS-500 Drawer Firearm Safe with Electronic Lock provides the best value for your money.
Its compact size makes it easy to place in any drawer or tabletop, and its features make it one of the best nightstand gun-safe systems on the market.
Fully customizable, the electronic lock can time out after three incorrect passcode entries.
Lockers often have locks that are easily smashed, but this safe has a solid steel construction to prevent the lock from being destroyed by an intruder.
It's also protected on all sides with layers of 12-gauge steel, which prevents smashing truly customizable. The electronic lock can time out after three incorrect passcode entries.
Lockers often have locks that are easily smashed, but this safe has a solid steel construction to prevent the lock from being destroyed by an intruder.
It also comes with pre-drilled holes for mounting the safe to the floor or shelf in your bedroom.
Features
– The Stack-On PDS-500 is the perfect nightstand gun safe for the money, providing the best value for your money.
– Its compact size makes it easy to place in any drawer or tabletop.
– The electronic lock can time out after three incorrect passcode entries.
– The safe is protected on all sides with layers of 12-gauge steel.
– It comes with pre-drilled holes for mounting the safe to the floor or shelf in your bedroom.
The AmazonBasics Deluxe includes an anti-pry door that is well-made.
High-quality steel was used in the creation of this nightstand, which guarantees durability and longevity.
This nightstand's rubber button and auto-open lid are durable. They allow you to access your gun quickly.
The safe's fingerprint reader has a quick touch response, as well as the bedside gun safe.
The safe can hold up to 50 different fingerprints using this technology. It is installed in a drawer or on the floor using pre-drilled holes and installation hardware.
The only thing it lacks is an interior LED light, which makes seeing inside the device in the dark a breeze.
Features
It's made of sturdy steel and has anti-pry hidden hinges for added security.
It has two active door bolts for further security.
The lock has a reprogrammable digital mechanism with backup keys.
The mounting hardware and the interior shelf can be adjusted.
Roadmap to Buying a gun safe for your nightstand
Gun safes are important for firearm owners to have. This gun storage unit is readily accessible in the case of an emergency.
Most gun owners keep their weapons for basic reasons like self-defense and protection against theft.
You or an authorized user should have a quick-access gun safe at hand at all times.
The majority of these safes have a solid steel shell with anti-pry bars. Mechanical and biometric gun safes are two different types of gun safes.
The biometric gun safe is unlocked with a fingerprint scanner, but the mechanical type requires the use of a key.
In this article, we've looked at the top options for storing guns.
With so many alternatives to choose from, knowing what to look for when buying the greatest nightstand gun safe is critical.
It demands a thorough examination of the essential characteristics of a firearm safe. Furthermore, keep in mind your local laws to see if your safe needs to fulfill any specific criteria.
FAQ About buying a Nightstand Gun Safe
What is a Nightstand Gun Safe and Why Do You Need One?
A nightstand gun safe is a must-have for anyone who has firearms in their home. It provides quick and easy access to your firearm in a dire situation, but still keeps it out of reach from children and unauthorized users.
To the untrained eye, a nightstand gun safe looks like an ordinary drawer or small cabinet that can fit into most bedrooms.
And while you might think this is enough security for your handguns and valuables, not all nightstands are created equal.
Why Own a Nightstand Gun Safe?
Nightstand gun safes are a great way to secure your firearm under the bed or on the nightstand. They're generally small, inexpensive, and best of all, don't take up too much space.
If you're looking for some additional protection without sacrificing too much space, then these are perfect for you.
What are the Characteristics of a Good Nightstand Gun Safe
Your bedroom is a place where you should feel safe, not vulnerable.
The best nightstand gun safes have a few qualities that make them stand out from the competition, including some of the following:
Construction
Look for a solid steel construction on the outside with locking mechanisms inside.
The keyhole should be hidden away from potential thieves and include two entry points (front and back) on the bottom of the unit.
This ensures someone can't cut off the lock on one side without anyone knowing about it on the other side.
Fire Protection
Even if your nightstand gun safe never encounters a fire, the materials used to construct it will still play an important role in keeping your guns and valuables safe should you ever encounter one.
Look for something that is made of 14-gauge steel (anything thicker than this has similar properties) with non-combustible materials like ceramic wool or vermiculite between layers.
Over time, these materials will insulate the handgun safes' interior from extreme temperatures, which can help prolong their lifespan and increase safety.
Accessibility
If you're looking for quick accessibility, go with mechanical lock instead of digital ones. There's no way to forget a combination on these and they can typically open in less than a second.
If you need something with higher security, consider going with a biometric lock instead.
These products open by reading your fingerprint or hand, which prevents anyone else from accessing it without your permission.
This is one of the most popular features on nightstand gun safes because of its sheer simplicity.
Size & Capacity
Before purchasing a new nightstand gun safe, measure how much space you have available inside the drawer or cabinet where you plan to put it.
You want to make sure there's enough room for it to fit so no important items get damaged during transport.
It's also smart to check what size handgun will fit inside before making a purchase.
With that being said, you can't go wrong with any of the options on this list.
Quick Access vs. Long-Term Storage
If you're looking for a nightstand gun safe to keep your handgun out of harm's way, go with something that is concealed and hard to break into.
This usually means choosing a small, compact safe with an electronic lock (don't worry about remembering a combination to open it). It will be stored in a discreet location, such as a drawer or other small space.
However, if you're looking to store your firearm in a safe during the day or if you have kids living at home, go with a larger box-style safe.
They have the capacity to hold several firearms and come with a few locking mechanisms in case your child or someone else forgets the combination.
However, keep in mind that nightstand gun safes with a larger capacity will require more effort to transport and install.
What's The Best Nightstand Gun Safe?
The best nightstand gun safe is the one that fits your needs.
All of these products will protect your belongings during a natural disaster or burglary attempt, but they are tailored to different users.
For example, if you want quick access gun safes to your firearm at all times, then go with something small, compact, and electronic. However, if you want to keep your firearms secure for years or transport them on a regular basis, then your best bet is an option with extra room and two entry points.
Purchasing a nightstand gun safe is more than just finding something that looks appealing to the eye. It's about making sure you're investing in a product you can use for years to come.
In the end, your needs will determine what type of nightstand gun safe is best for you, but this list will give any user an idea of what they should be looking for.