We're reader-supported. When you buy through links on our site, we may earn an affiliate commission. Learn More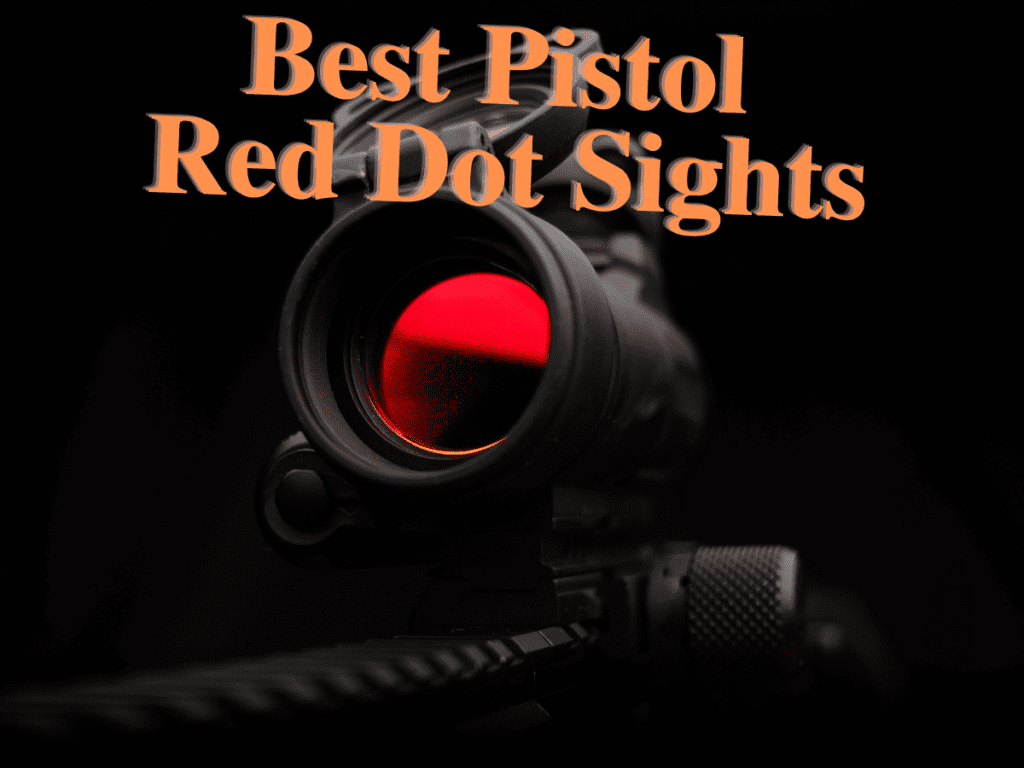 If you're looking for the best pistol red dot sight on the market, you've come to the right place.
In this comprehensive guide, we will take a look at some of the best 11+ options available and discuss what makes them so great.
Whether you're a novice shooter or an experienced marksman, there's something for everyone in this list. So without further ado, let's get started.
What Makes a Red Dot Sight The Best?
So, what makes the ideal pistol red dot sight? At the end of the day, it all comes down to your needs and wants.
To assist you in making an educated purchase decision, we are going to review each feature on our list with honesty and impartiality.
Here are a few key features that make for outstanding pistol red dots: MOA (Dot Size), Battery Life, Auto Power Off/Battery Saver Mode, and Durability/Materials used.
Our mission is simple – provide you with enough knowledge about each option available so that you can confidently select one to meet your requirements!
The 11+ Best Pistol Red Dot Sights of 2023
Whether you are just starting out or an experienced shooter looking to upgrade, we have compiled a list of the best pistol red dot sights for all types of handgun owners.
From budget-friendly to high-end options, this guide will cover everything from features and performance to price points and more.
The Trijicon RMR Dual-Illuminated Reflex Sight provides superior clarity and accuracy in any lighting condition.
Boasting a unique patented housing shape forged from 7075-T6 aircraft aluminum, it effectively diverts the force of an impact away from the lens to maximize its durability.
Additionally, this sight features a true color multi-coated lens which creates a wide band light transmission that minimizes changes in target area colors as well as tritium phosphor lamp illumination for low light conditions.
Our Adjustable Windage and Elevation make it simple to customize without any extra tools.
Each click provides 1 MOA, making this sight not only suitable for rifles, pistols, shotguns and carbines; but perfect as a secondary source when attached along with a magnified optic!
KEY FEATURES:
– Dual-illuminated reticle
– Patented housing shape to resist impacts
– True color multi-coated lens
– Adjustable windage and elevation
– Versatile sight for multiple uses.
Overall, the Trijicon RMR is a superior choice that delivers great performance and superior durability in all lighting conditions.
With its wide range of features and customization options, it is no wonder why the Trijicon RMR has become the go-to sight for many.
The Trijicon RM06 3.25MOA Red Dot Sight, RMR Type 2 features an adjustable LED with automatic brightness mode and 8 easily operable settings – including two NV and one Super bright setting!
Its ruggedized battery contacts and dependable electronics let you take it anywhere without worrying about performance or survivability issues in harsh conditions.
And its patented housing shape, made from military-grade aluminum alloy allows for maximum durability by diverting forces away from the lens when impacted.
Achieve up to 4 years of continuous use at a comfortable 70ºF (21ºC) with the Trijicon RMR Type 2's Battery Conservation Mode, which automatically adjusts the aiming dot based on ambient lighting levels after 16.5 hours of operation.
Additionally, lock-out buttons prevent accidental adjustments and ensure that this resilient device is ideal for military, law enforcement, and hunting settings – even in extreme temperatures!
KEY FEATURES:
– Ruggedized battery contacts
– Dependable electronics
– Patented housing shape
– Military-grade aluminum alloy construction
– 8 easily adjustable brightness settings
– Battery conservation mode for up to 4 years of continuous use.
The Trijicon RM06 Red Dot Sight provides precision and durability in all conditions without sacrificing performance.
The Trijicon RMR Type 2 6.5 MOA LED Red Dot Sight with No Mount is designed for close-quarter engagements, as its large dot size allows the user to easily find and target their desired object quickly–perfect for those who have vision problems.
Furthermore, once a manual mode has been chosen, the device will remain in this setting for up to 16.5 hours after each time a button is pushed!
Optic Mounted
With the Trijicon RMR Type 2 LED, you can now mount it on either our variable or fixed magnification optics for a superior reflex sight experience.
This allows you to be agile and responsive in close-quarter combat scenarios while being able to swiftly switch back to long-range shots with your magnified optic – all without compromising speed and weight!
Handgun Mounted
When it comes to equipping your pistol or handgun with a reflex sight, the Trijicon RMR Type 2 LED is an ideal choice.
This can be easily achieved via a few different methods – you could opt to mill it directly onto the slide of your gun, invest in mounting plates, or go for one of three rail-mount options like ALG 6-second mount, Balor RMR mount, and Dueck Defense RMR mount. No matter which routes you take; this great addition will have your firearm ready for action!
Rifle Mounted
If you're in search of a top-tier lightweight reflex sight for your rifle, the Trijicon RMR Type 2 is exactly what you need.
The RMR comes in an array of MOA configurations and tips the scales at just 1.17 ounces; so, it's not only fast and agile but also incredibly tough!
KEY FEATURES:
– 6.5 MOA LED reticle
– Optic, handgun & rifle mounting options
– Variable and fixed magnification optics compatible
– Ruggedized battery contacts & dependable electronics
– Military grade aluminum construction
– Battery conservation mode up to 4 years of continuous use.
Overall, the Trijicon RMR Type 2 LED Red Dot Sight is the perfect accessory for any serious marksman or hunter.
The HOLOSUN HE507C-GR X2 Green Circle Dot is the perfect sighting option for long hunting trips, as it includes a Super Green LED high capacity lithium battery that grants up to 50,000 hours of use.
Alongside this feature come all the necessary equipment you need: A Coin Battery CR1632, T10L Key, Lens Cloth and User Manual are included with your purchase!
With such an incredible battery life span and our easy to understand user manual – there's no better choice when searching for suitable optics on your next hunt!
With twelve adjustable brightness settings, including dim modes that work well with night vision equipment for nocturnal use, this advanced technology is a must-have.
The parallax free optical design and unlimited eye relief make it one of the best on the market today.
Compatible with 10 DL & 2 NV, you won't be disappointed! There's also our revolutionary Shake Awake feature which shuts off Green LED sight during motionless moments to conserve battery when not in use—it will automatically switch back to full brightness as soon as movement resumes! And there are even customizable user programs available too.
KEY FEATURES:
– Advanced Super Green LED technology for up to 50,000 hours battery life
– 12 brightness settings including low light & night vision compatible modes
– Parallax free optical design with unlimited eye relief
– Shake Awake motion detector
– Solar Failsafe automatically adjusts brightness levels to ambient lighting conditions
– Compatible with 10 DL & 2 NV
– Customizable user programs available.
The HOLOSUN HE507C-GR X2 Green Circle Dot is the ultimate reflex sight for any serious marksman or hunter looking to take their skills to the next level.
The HOLOSUN HE407C-GR X2 Green 2MOA Dot is designed for long and reliable use at the range or in hunting expeditions.
This sophisticated model comes with a Super LED high capacity lithium battery, providing up to 50,000 hours of continuous use – perfect for those extended trips!
Additionally, the package includes: Coin Battery CR1632; T10L Key; lens cloth and user manual – all you need to get going on your next big adventure.
Outfitted with the highest quality technology, this LED sight features twelve distinct brightness settings – including low-light compatible night vision capabilities.
With its parallax-free optical design and unlimited eye relief, you can rely on a perfect view even in dark conditions.
Additionally, it boasts revolutionary shake awake technology which senses lower motion and powers off accordingly to conserve energy; plus custom programming options for your convenience!
KEY FEATURES:
– High capacity Super LED lithium battery for up to 50,000 hours of use
– 12 brightness settings including low light & night vision compatible modes
– Parallax free optical design with unlimited eye relief
– Shake Awake motion detector
– Solar Failsafe automatically adjusts brightness levels to ambient lighting conditions
– Compatible with 10 DL & 2 NV
– Customizable user programs available.
The HOLOSUN HE407C-GR X2 Green 2MOA Dot is the perfect companion for serious marksmen and hunters alike.
Step into the world of accuracy with Leupold's DeltaPoint Pro Reflex Sight. With its Model No.119688, you'll get a 2.5 MOA Dot reticle and Matte finish that will look great on any gun!
Plus, this model is equipped with Battery saving Motion Sensor Technology – when it detects no movement after five minutes, it deactivates illumination automatically to save your battery life while still instantly reacting once movement resumes!
And don't forget about DiamondCoat Aspheric Lens which increases the usable field of view by up to 56% for crystal clear images every time – scratch resistant too!
Setting adjustments are made easy since you won't need tools; simply top-load your batteries in seconds and make true 1 MOA click adjustments without breaking a sweat.
Finally, enjoy rugged 100% waterproof construction perfect for hunting or tactical environments alike so you can use this sight wherever adventure takes you next.
KEY FEATURES:
– Brightness settings to match NV device sensitivity
– Ultra wide field-of-view, crystal clear glass
– Rugged aluminum housing and steel sheath
– Easy access battery compartment with click adjustments
– DiamondCoat Aspheric Lens for increased FOV
– Motion Sensor Technology for extended battery life.
The Aimpoint PRO Red Dot Reflex Sight with QRP2 Mount and Spacer is the perfect solution for achieving absolute co-witnessing with iron sights.
With its 2 MOA red dot, you can be sure that your target will always be accurately engaged.
It also comes complete with front and rear plastic flip cap lens covers as well as 10 brightness settings including one extra bright setting ideal for use in direct sunlight!
Plus, it runs off of just 1 DL1/3N battery which means up to 30,000 hours (over 3 years) of continuous operation!
KEY FEATURES:
– 2 MOA red dot for accurate target engagement
– Up to 30,000 hours of constant operation from 1 DL1/3N battery
– 4 night vision compatible settings & 6 daylight settings
– Absolute co-witness with iron sights (with the supplied spacer installed)
– Threaded front lens opening allows for optional anti-reflection device use.
The Feyachi Reflex Sight is ideal for any type of shooter, offering 4 styles of reticles – Dot, Circle/Dot, Crosshair/Dot and Crosshair/Circle/Dot combo – all built into one precision sight.
Utilizing a 33mm lens with an expansive field-of-view offers rapid target acquisition while the parallax correction and unlimited eye relief enable you to make sure that wherever your dot lands, so does your bullet!
Furthermore this device is ultralightweight yet waterproof and shockproof thanks to its secure rail mounting system which ensures it won't come loose in the heat of battle.
It's even powered by just one 3V lithium battery (included) making it as reliable as can be.
KEY FEATURES:
– 4 different reticle styles for any situation
– 33mm lens for quick target acquisition
– Wide field of view to maintain situational awareness
– Parallax corrected & unlimited eye relief
– Ultralight, waterproof, and shockproof design.
From Vortex Optics, the Venom Red Dot Sight-3 MOA is perfect for quickly targeting and accurately shooting your shots.
With its durable aluminum housing, you can count on this sight to last through any harsh environments or conditions.
The multi-coated lenses provide a clear field of view while the power and dot intensity control buttons located on the left side make it easy to adjust between 10 different brightness levels. Get ready to take aim with confidence!
The Venom is equipped with an auto-brightness mode, meaning the dot intensity can be managed automatically using its ambient light sensor if desired.
Moreover, it comes with parallax-free 1 MOA wind age and elevation adjustments that make sighting in a cinch!
Additionally, you'll love how easy battery replacement is thanks to its top load system – no need to remove your sight just for switching out the CR1632 battery.
KEY FEATURES:
– 3 MOA Dot
– Aircraft Grade Aluminum Housing
– 10 Brightness Levels
– Parallax Free
– O-ring Seals for Waterproofing
– 1 MOA Wind Age and Elevation Adjustment.
– Top Load System for Battery Change.
– Multi Coated Lenses for Superior Clarity.
With the Burris FastFire, you can enjoy unparalleled accuracy with a 3 MOA Dot Reticle, as well as convenience and ease of use from its tool-less wind age and elevation adjustments.
A Picatinny mount comes included for easy accessorizing, while top of sight battery access ensures that your reticle stays powered up at all times.
Additionally, three levels of brightness plus an automatic setting provide plenty of illumination options to suit any situation – even low battery warnings keep you informed!
Introducing the AT3 Tactical ARO Micro Red Dot Sight: an accurate and adaptable red dot sight perfect for rifles, shotguns, or pistols.
Featuring a sharp 3 MOA reticle with multicoated lenses to provide distortion-free clarity without the deep blue tint found in other micro sights; plus tactile "click" adjustments for easy sighting!
Plus, its lightweight design of only 1.8oz provides an extra-large field of view to quickly acquire targets – all backed by top-loading battery and picatinny mount included!
Compatible with Burris Fastfire / Vortex Venom mounts as well as handgun slide adapters – get your rifle ready today with the AT3 Tactical ARO Micro Red Dot Sight!
With its IPX67 waterproof, sealed electronics and shockproof components that unfailingly ensure zero, the ARO Red Dot Sight is remarkably dependable.
Its stealthy matte anodized finish not only looks stunning but resists scratches as well. Also included in this package are a rubber lens cover, CR1632 battery, low Picatinny mount and a range of tools such as Allen wrench for windage adjustment and Torx wrench for mounting screws.
For your convenience we even include an instruction sheet and lens cloth! And best of all – lifetime warranty!
KEY FEATURES:
– 3 MOA Dot Reticle
– Multicoated lenses for distortion free clarity
– Three brightness settings plus an auto setting
– Tool-less wind age and elevation adjustments
– Top of sight battery access
– Picatinny mount included
– Lightweight design of 1.8 oz
– Compatible with Burris
The CVLIFE 1X22X33 Red Green Dot Gun Sight Scope is the perfect accessory for anyone looking to rapidly fire or shoot moving targets with ease.
Its 33mm reflex lens aperture provides a broad field of view, while its dual illuminated system (red and green) allows you four distinct reticle shapes depending on your current lighting situation.
Moreover, it features parallax correction and unlimited eye-relief that greatly improve accuracy when using holographic sights.
Finally, its Allen head screw type windage and elevation click adjustments allow for easy zeroing in with secure locking screws – giving you reliable accuracy at all times!
Constructed from durable and high-grade aluminum alloy with a matte black anodized finish, the red dot sight also features standard profile Picatinny mounting base.
The reflex sight is equipped with fully multi-coated lenses for clarity of view in any condition. Its dimensions measure 3.15in*1.37in*2.08in (8cm*3.5cm*5.3cm), while its weight is 130g; 22mmx33mm screen size ensures reliable performance even under extreme use conditions!
Best High-End Pistol Red Dot Sights
Popular pistol sights can often be rather expensive, but it doesn't have to be this way.
While there are some high-priced models that aren't worth the money, let us focus on those which truly belong at the top of anyone's list – including our own!
From the ever-famous Trijicon RMR and more, we will explain why each sight is a cut above the rest.
Trijicon RMR
The Trijicon RMR stands out as the most sought-after pistol red dot sight, consistently regarded by experts as the finest of its kind.
This impressive design is often held to be a benchmark for other optics and has even been utilized on tactical shotguns such as Benelli M4 and AR-15 pistols.
Not only that, but the RMR also proves itself with remarkable durability and power supply longevity – just take a look at YouTube where there are countless videos demonstrating these features through vigorous tests like dropping or hitting it with hammers without compromising its accuracy!
The Benefits of Using a Red Dot Sight on a Pistol
Faster Acquisition – The illuminated red dot makes it easier to quickly acquire and engage targets without having to manually adjust the sights.
Increased Accuracy – The red dot acts as a reference point, and if you line it up correctly, you're more likely to hit your target.
Enhanced Visibility – Red dots are visible in low-light conditions, making it easier to maintain your accuracy even when visibility is limited.
Versatility – Red dot sights can be used on a wide variety of firearms, from handguns to shotguns and rifles.
FAQ About Pistol Red Dot Sights
Q: What is the difference between a red dot sight and a holographic sight?
A: A red dot sight typically uses a single illuminated reticle for targeting, while a holographic sight has multiple illuminated reticles. Additionally, holographic sights are more expensive and tend to offer better accuracy than red dot sights.
Q: Are pistol red dot sights waterproof?
A: Most modern pistol red dot sights are water-resistant, but it's important to check the manufacturer's specifications before buying one. Additionally, make sure you take proper care when cleaning and maintaining your sight to ensure reliable performance in any condition.
Q: Can I mount a pistol red dot sight on my rifle?
A: Yes – most red dot sights designed for pistols can also be mounted onto rifles or shotguns with the appropriate mounting hardware. It's important to check with the manufacturer to ensure that your sight is compatible with the firearm you plan on using it with. Additionally, make sure you follow all safety protocols when mounting and using a red dot sight on any type of weapon.
Q: How much does a pistol red dot sight cost?
A: Prices for pistol red dot sights can vary widely depending on the type, features, and quality of the sight. Generally, you can expect to pay anywhere from $50-$400 or more for a reliable pistol red dot sight. Always make sure you do your research and get the best value for your money.
Q:What online resources can I use to learn more about pistol red dot sights?
A: There are many great online resources that can help you become more informed about pistol red dot sights, such as YouTube videos, blogs, and forums.
Additionally, websites like Optics Planet and Cheaper Than Dirt offer detailed reviews of different models from various manufacturers.
Finally, if you want to get a better feel for the sight before buying it in person, there are virtual demos available on popular shooting game platforms such as Steam or PlayStation.
Q: Does cheap mean bad quality when it comes to pistol red dot sights?
A: Not necessarily. Some budget-friendly red dot sights offer great value for the money, and can be just as reliable and accurate as more expensive models. It's important to do your research to make sure you get a sight that meets your needs without breaking the bank.
Q: What are some nonprofits I can donate to help promote gun safety and education?
A: There are many organizations that work to promote responsible firearm ownership, such as The National Rifle Association (NRA), Gun Owners of America, The Second Amendment Foundation, and the Pink Pistols.
Additionally, there are a variety of smaller charities and organizations that focus on local gun safety initiatives and education.
Donating to these organizations is a great way to help make sure that everyone who owns a firearm is properly trained and follows all applicable laws.