We're reader-supported. When you buy through links on our site, we may earn an affiliate commission. Learn More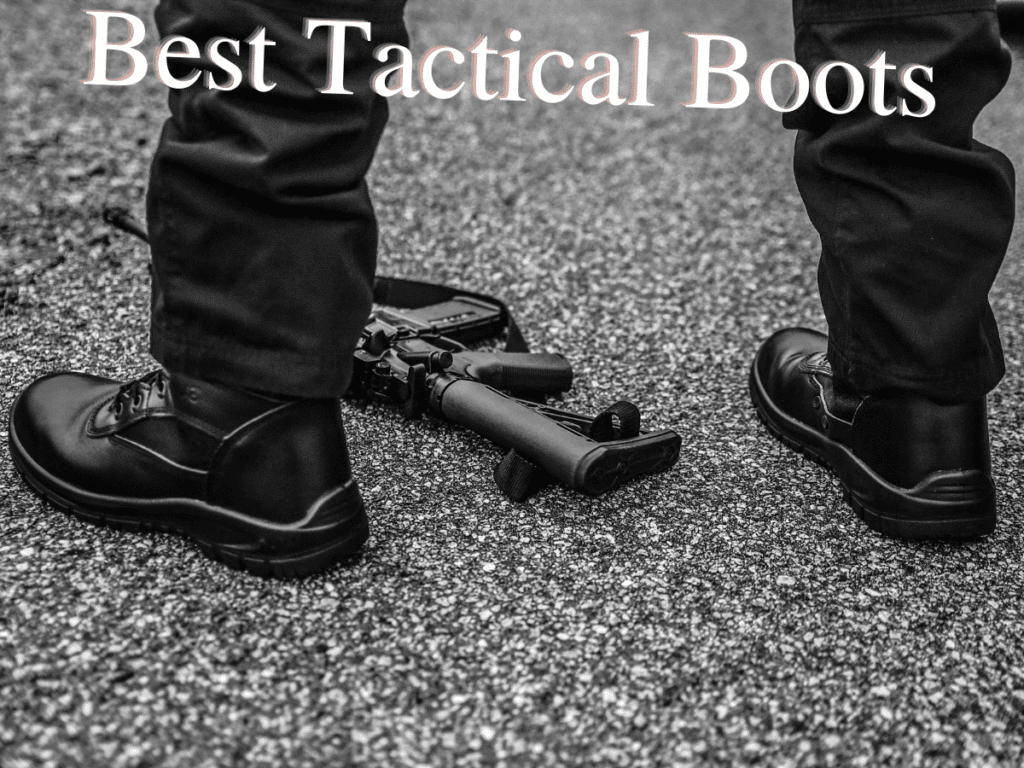 Finding the best tactical boots can be a daunting task. With so many options on the market, it can be hard to know which pair is right for you.
In this article, we will review seven of the best tactical boots on the market and help you decide which one is right for you.
We'll also provide a buyer's guide to help you make the most informed decision possible.
So, whether you're in the military, or law enforcement, or just need a good pair of hiking boots, read on for the best tactical boots out there!
Top Picks of Best Tactical Boots in 2023
Best Overall
#1. ROCKY S2V Predator Military Boot
Runner-Up
#2. NORTIV 8 Men's Military Tactical
17 Best Tactical Boots Reviewed for 2023 (Military, Police, Rucking, Hiking, Hunting)
Now that you're familiar with the considerations to make when buying tactical boots, let's take a look at 17+ of the best options on the market.
If you're in need of a boot that lasts through even the toughest conditions, look no further than Rocky's S2V Predator Military and Tactical Boot.
This high-quality black full-grain leather public service boot is crafted with flash-resistant water-resistant leather and 1,000 denier CORDURA® nylon material for maximum protection.
Thanks to PTFE coating it also offers flame resistance as well! And don't forget about its innovative drainage vents featuring advanced S2V Sieve technology – allowing air circulation while pushing out any moisture so you can walk them dry faster!
Get your pair now to experience superior comfort from toe to heel – no matter how tough things get!
Superior and strong, the triple-stitched boot is designed to withstand heavy wear while providing Roll-Stop Ankle Stability for extra protection.
Comfortably embracing your foot with a snug fit thanks to its LYCRA® tongue, this tactical footwear also features a Vibram® sole with enhanced walls and polyurethane midsole.
Within it lies numerous elements that guarantee comfortability: Dri-Lex® lining for moisture absorption; Rocky® Air-Port™ footbed which cushions your feet as well as allows air circulation; plus fiberglass shank which offers arch support.
For incomparable comfort and performance, you can't go wrong with the Rocky S2V Predator Public Service Boot – ideal for anyone seeking a reliable black boot.
KEY FEATURES:
– ASTM F2412-11, F2413-11 I/75 C/75 Protective Toe Classification
– Flash, Water, and PTFE Resistant Leather
– 1,000 Denier Cordura Nylon Upper
– S2V Sieve Technology for Air Circulation
– Roll Stop Ankle Stability for Ankle Protection
– Vibram® Soles with High Walls and Polyurethane Midsole
– Dri-Lex® Lining Wicks Away Moisture
– Rocky Air-Port™ Cushioned Footbed
– Fiberglass Shank for Arch Support
– Made in the USA.
The NORTIV 8 Tactical Boots are a perfect blend of protection, convenience, and durability.
With an 8-inch shaft providing ample ankle support, these boots are designed to keep your feet secure and comfortable throughout the day.
The breathability of the fabric combined with high abrasion-resistant leather ensures both comfort and long-term protection.
A dynamic 2-sole system, featuring a removable, shock-absorbent cushion in-sole and a slip, oil, and abrasion-resistant rubber out-sole, offers all-day comfort and flexible response to various outdoor terrains.
Key Features:
Rubber sole for enhanced grip
Ankle-high protection with convenient YKK side zipper and hook-loop strap closure
Durable and breathable fabric to keep feet cool and dry
High abrasion-resistant leather for full protection
Dynamic 2-sole system featuring removable, shock-absorbent cushion in-sole and slip, oil, and abrasion-resistant rubber out-sole
Suitable for both indoor and outdoor activities like camping, climbing, cycling, fishing, jungle, running, mountaineering, traveling, and more.
Comes with a worry-free warranty and friendly customer service from NORTIV 8, a brand that aims at providing high-quality outdoor shoes.
The FREE SOLDIER Tactical Boots offer an impressive balance of durability, protection, and comfort, making them an excellent choice for a variety of activities.
These boots feature a suede leather upper with 1000D Cordura fabric, providing superior durability and scratch resistance.
The EVA midsole delivers lightweight flexibility and excellent cushioning – perfect for work or hiking.
The all-terrain outsole ensures great grip, and the strengthened toe cap and heel offer full protection and ankle support.
Key Features:
Waterproof coating and lycra cloth lining for dry and breathable comfort
Gusseted tongue to prevent debris from entering the boot
Durable lace and quick fasten-up for convenience
Lightweight design (each boot weighs about 1.17 lb for US size 9)
Fashionable and practical tactical design with urban casual style
Removable insole and breathable lining for sweat release and quick-drying
6-inch shaft height from heel and approx 1.4-inch heel for easy wear
Suitable for all seasons and a range of activities including hiking, work, tactical, army, hunting, and motorcycle riding
Can also be worn as hiking boots, winter work boots, interceptor boots, security boots, airsoft boots, duty boots, mountaineering boots, etc.
The 5.11 Men's ATAC 2.0 8″ Tactical Storm Boot is the ideal choice for those looking to provide their feet with unparalleled comfort and flexibility during patrol, missions, or law enforcement work.
Imported and featuring a leather lining with zip closure, this boot boasts an Ortholite full-length dual durometer foot bed with Achilles heel flex zone plus an Ortholite Acilles cuff for extra cushioning – as well as a shock mitigation system that makes it lighter in weight than other military boots on the market today!
Featuring a side YKK zipper, rugged suede toe and Slip Resistant Outsole with Waterproof BBP Membrane that keeps your feet dry and steady across all terrains, the A.T.A.C 2.0 Storm Boot should be every person's go-to tactical boot!
Not only does it provide complete protection but also includes an added bonus of a knife pocket for extra convenience – ideal for missions, patrols or hiking trips alike!
With 5.11 apparel, you can always be prepared for your environment!
Their mission is to construct tactical gear that meets the requirements of even the most rigorous missions – crafted with both professionals and consumers in mind.
Investing in 5.11 products will ensure that no matter what comes your way, you'll have reliable, high-quality attire at hand when needed most. Be Ready Anywhere – Always Be Ready with 5.11!
KEY FEATURES:
– Ortholite® footbed for cushioning and comfort
– Shock mitigation system for stability
– Slip resistant outsole with SlipSteam waterproof BBP membrane
– Side YKK zipper and rugged suede toe for protection
– Knife pocket for convenience
– Lightweight construction for increased agility and speed.
The Under Armour Stellar G2 Side Zip Tactical Boot is a product resulting from the company's pursuit of innovation to enhance athletic performance.
The boots feature technology designed to regulate temperature, with HeatGear for hot weather, ColdGear for cold weather, and AllSeasonGear for in-between.
The boots have a leather sole and measure approximately ankle-height, with a 2-inch heel.
The circumference of the boot opening is approximately 10 units of measurement. Under Armour aims to assist athletes in enhancing their performance through passion, design, and innovation.
They initially focused on producing an improved T-shirt, and now have intricate technology in their products.
However, the concept is straightforward: wear HeatGear during hot weather, ColdGear in low temperatures, and AllSeasonGear in moderate weather conditions.
Key Features:
– Leather sole
– Ankle-height
– 2 inch heel
– Circumference of 10 units
– HeatGear for hot weather
– ColdGear for low temperatures
– AllSeasonGear for in between temperatures.
These Rocky® S2V work boots are crafted with durable leather uppers, which are both water-resistant and flame-retardant.
The breathable Cordura® shields against abrasions while the Lycra® tongue ensures a snug fit.
For added protection, PTFE (polytetrafluoroethylene) is applied to the footwear for superior fire resistance – making these Berry-compliant boots perfect for any job!
If you're looking for reliable protection, these steel toe boots abide by the ASTM Protective Toe and Electrical Hazard standards.
Plus, their Berry Compliant moisture-wicking lining ensures a comfortable experience even on hot days when perspiration is a concern.
The S2V Sieve™ technology aids in quickly expelling water while circulating air to keep your feet feeling fresh and dry all day long. Additionally, Rocky Air-Port™ cushion footbeds provide extra comfort with every step taken!
With the fiberglass shank, these Rocky S2V Steel Toe Boots provide you with unparalleled stability and arch support.
The Vibram® outsole is lightweight yet tough – making them long-lasting and resistant to abrasions.
Additionally, their Roll-Stop Ankle Stability™ technology ensures your ankles remain safe from rolling inside your boots all while providing extra sturdiness for optimal comfort!
These American-made high-quality boots offer both a protective toe as well as extreme durability – truly the best choice for you!
KEY FEATURES:
– ASTM F2413 Protective Toe Classification
– ASTM F2413 Electrical Hazard Standard
– Leather and Cordura Upper
– PTFE Flame Resistant Coating
– Vibram Outsole with Roll Stop Ankle Stability
– Moisture Wicking Lining
– Air Port Cushion Footbed
– Steel Shank for Arch Support
– Berry Compliant
– Made in the USA
The Under Armour Micro G Valsetz Tactical Boots are a game changer for those seeking comfort, durability, and protection in their footwear.
These boots boast a unique combination of lightweight synthetic leather and textile upper, making them both durable and breathable.
The inclusion of Micro G midsole cushioning takes their comfort to the next level, especially appreciated after long hours on your feet.
Key Features:
Rubber sole for increased traction
Ankle-high shaft for enhanced support and protection
Lightweight synthetic leather & textile upper, providing breathability and durability
Welded forefoot overlay & molded TPU toe cap for additional protection
Convenient pull loops on heel & tongue for easy on/off
Insite Contoura Support footbeds featuring shock-absorbing foam
Full-length Micro G foam midsole, offering long-lasting, responsive cushioning
Oil- & slip-resistant high traction rubber lug outsole, enhancing grip on a variety of surfaces
Boot opening measuring approximately 5″ around for a snug fit.
Salomon Forces Quest 4D GTX 2 EN Tactical Shoes are designed to perfectly handle the toughest of operations in extreme terrain.
They offer unparalleled support, grip, and traction while also being lightweight and anti-static – so you can take a knee or sprint without worry.
The outsole is oil-resistant, slip-resistant, and puncture resistant for ultimate protection against any conditions outdoors!
Military, law enforcement and other professionals often require reliable tactical gear. Salomon FORCES line of performance shoes provides the strength and stability needed for intense conditions.
For those who like to explore their limits through trail running, hiking, backpacking or mountaineering, Salomon has suitable shoes and accessories available for all ages – both genders – so you can reach your goals in no time!
Ever since 1947, Salomon has been driven by our passion for outdoor sports and the desire to create progressive gear.
Whether it be on trails or roads, you can take your pick from our enormous selection of running shoes, hiking sneakers, boots, and water shoes that will help make any path an adventure!
KEY FEATURES:
– Oil-resistant, slip resistant and puncture resistant outsole
– Gore-Tex® membrane for waterproof protection
– 4D Advanced Chassis™ midsole provides stability and support in rough terrain
– OrthoLite® footbed adds cushioning and comfort
– Breathable open mesh uppers with protective overlays keep feet cool
– Anti-static properties to protect against electrical shock hazards
– Lightweight construction for increased agility and speed.
The Thorogood GEN-Flex2 8" Side-Zip is an indispensable addition to your wardrobe.
Crafted from 100% leather and made in the USA, these boots are engineered with dual-density rubber outsoles that flex better than other tactical work boot soles — absorbing impacts while providing unparalleled traction on wet and oily surfaces.
As a bonus, its multi-directional lugs dig into loose surfaces for superior grip so you stay securely rooted when it matters most!
It even meets ASTM F2813 Slip Test Standards solely for extra assurance of quality. And finally, it has a shaft measuring approximately 8″ from arch for maximum comfortability no matter where you go.
Step out in style with these Black Walnut colored, high-shine polishable toe cap and heel counter police boots.
They are the perfect uniform dress boot for both women and men. With a removable single-density polyurethane footbed that offers optimal shock absorption, you can trust that it will provide superior wear resistance as well as a moisture seal between the upper and midsole of your tactical work boot for maximum comfortability – right out of the box!
KEY FEATURES:
– 100% leather construction
– Dual-density rubber outsole for better flex and traction
– Multi-directional lugs for superior grip
– ASTM F2813 Slip Test standards compliant sole
– 8″ shaft from arch for optimal comfortability
– Removable single-density polyurethane footbed for maximum shock absorption.
Conquer dry, difficult trails with Lowa's Zephyr Mid TF. This supportive and well-ventilated boot is crafted of 100% leather and textile for maximum durability, while its rubber sole provides ample wet/dry traction to keep your footing sure.
A 'Cross' full-length support shank will hold up against heavy wear as the injected Monowrap midsole wraps around your feet in lightweight comfort.
No matter where you walk, these dependable boots from Lowa are ready to take on any challenge!
The all-terrain mid-cut boot provides ankle cushioning and comfort with its padded collar and tongue, as well as moisture-wicking mesh and woven lining insulation.
What's more, the removable climate control footbed ensures your feet stay cool yet supported for long walks in nature.
LOWA boots have been celebrated by adventurers around the world since 1932 for their thoughtful design that combines only top quality materials crafted under clean manufacturing processes and fair labor conditions—all handcrafted in Europe!
KEY FEATURES:
– 100% leather and textile construction
– Rubber sole for superior traction
– Loop eyelets and padded tongue and collar for extra cushioning
– Lowa 'Cross' sole with full length support shank provides wet/dry traction
– Injected Monowrap midsole for lightweight support
– Removable climate control footbed for improved comfort.
– Handcrafted in Europe with thoughtful design, superb materials, and clean manufacturing processes.
– Fair labor standards for quality assurance.
Salomon Unisex-Adult Xa Forces engineered to perform in any condition, these lightweight tactical shoes are perfect for special forces personnel and provide maximum responsiveness.
Featuring a rubber sole, the Forces XA Mid offers weather protection & dynamic comfort alongside an enhanced outsole that helps keep you moving quickly.
The shaft measures approximately Ankle from arch with superior imported quality throughout.
Salomon FORCES performance shoes offer unrivaled stability and durability for those in the military, law enforcement, or any other challenging profession.
When you're ready to get out there and challenge yourself, look no further than the wide range of shoes and gear available from Salomon to help take your outdoor activities such as trail running, hiking, backpacking, or mountaineering to new heights – whatever your age or gender!
For over 70 years, Salomon has been taking our love for outdoor sports and pushing the boundaries of innovation to create revolutionary gear.
Our road and trail running shoes, hiking sneakers, boots, and water shoes help make any path your own so you can explore anywhere with confidence.
KEY FEATURES:
– Rubber sole for superior traction
– Shaft measures approximately Ankle from arch
– Imported quality throughout
– Unrivalled stability and durability
– Enhanced outsole provides maximum responsiveness
– Weather protection & dynamic comfort.
– 70+ years of experience in outdoor sports.
– Revolutionary gear for trail running, hiking, backpacking & mountaineering.
– Innovative shoes and gear to explore anywhere with confidence.
Danner Men's Tachyon 8″ GTX Duty Boot is not just a comfortable, lightweight trainer; it is an athletic-inspired, field-proven boot that has been meticulously crafted to meet our demanding standards.
Our researchers worked hard and waited patiently until they could create the perfect duty-designed trainer – one that can withstand any scenario in the field.
We offer many different versions of this amazing boots from waterproofing to polishable toes and even hot weather-specific designs so you know there will be the right Tachyon for every job!
To make sure our Tachyon boots stand up in any environment, we made them with a full rubber outsole that provides superior grip and contact on the most difficult surfaces.
With pentagonal lugs for increased traction, they offer enhanced durability while keeping an athletic feel to ensure maximum comfort and mobility.
EVA is great for tennis shoes – but when you need footwear that can handle anything outdoors, you need something much more robust than your regular sneakers!
Get Ready, Go.
Time is of the essence when it comes to getting out and accomplishing your goals! The Tachyon utilizes specialized quick lacing hardware that allows you to get a snug fit from toe-to-top with only one pull.
You will have less time spent on lacing up so you can use that extra time for what really matters – completing the task at hand! So lace up quickly and roll out even faster with the Tachyon shoes by your side.
Finding a balance between lightweight construction and robustness can be daunting. We solved this problem by utilizing 500 Denier Nylon, as it provides one of the lightest strength-to-weight ratios around!
Our Tachyon upper was then crafted with full grain leather in carefully placed areas to guarantee utmost durability despite its featherlight weight – so that you get your favorite athletic shoes' feel, but never compromise on power & strength. Built durable without the bulk: experience our groundbreaking innovation today!
KEY FEATURES:
– Lightweight and breathable
– Fully waterproof with GORE-TEX construction
– Pentagonal lugs for superior grip & traction
– 500 Denier Nylon for strength-to-weight ratio
– Quick Lacing hardware for fast donning and doffing
– Full grain leather in specific areas for durability
– Adva
KEY BENEFITS:
– Unmatched support & comfort for every activity.
– Improved mobility due to its lightweight construction.
– Keep your feet dry and protected from wet conditions.
– Maximum traction on different surfaces with the pentagonal lugs.
– Quickly and easily get the perfect fit with its quick lacing hardware.
– Keep your boots durable and long lasting despite their lightweight construction.
– Perfect for all kinds of activities, from routine duties to intense operations.
For over a decade, Bates Ultra-Lites has been an essential tool for uniformed professionals.
Constructed with premium leather and ballistic nylon fabric, along with the flexible fit of athletic wear design, these boots offer both comfort and style without compromising quality.
Plus they come complete with features like cushioned removable insoles that can be replaced whenever needed; slip-resistant soles to keep you on your feet; and a side zipper accompanied by 8″ safety toes for extra protection.
With all these benefits combined, it's no surprise why Bates Ultra-Lites are trusted time after time!
Since 1885, Bates Footwear has dedicated itself to the production of dress shoes. Fast forward over a century and this billion-dollar footwear giant is now creating uniform footwear for all branches of military forces as well as civilian police departments globally.
In 2003, Bates was hired by Wolverine Worldwide Inc., one of the largest marketers in lifestyle and sport product branding based out of Rockford Michigan.
Wolverines Worldwide Inc.'s commitment to quality makes them an ideal partner for Bates – whose dedication remains true to making reliable products that are essential components in both civilians' and soldiers' lives!
Wolverine Worldwide is an iconic brand portfolio with esteemed names including Bates, Chaco, Cushe, Hush Puppies, HYTEST, Merrell, and Sebago.
What's more – the company has secured the exclusive rights to produce footwear for renowned brands such as Cat Footwear, Harley-Davidson Footwear, and Patagonia Footwear!
You can purchase their products in leading stores across America as well as 190 countries around the world; they all remain true to size no matter where you live.
KEY FEATURES:
– 8″ safety toes
– Removable cushioned insoles
– Slip-resistant soles
– Durable leather & ballistic nylon fabric construction
– Side zipper for easy on and off
– Lightweight – ideal for long-term wear!
– Flexible fit with an athletic design.
Smith & Wesson's Breach 2.0 is a boot of unparalleled construction, sturdiness, and affordability that has been crafted with the utmost attention to detail – something well-known from this high-quality brand.
Its combination of leather and textile materials will guard your feet without compromising comfort while its gusseted tongue prevents dirt or debris from entering inside the shoe.
When it comes to boots, there is no better choice than Smith & Wesson Men's Breach 2!
For all-day comfort, an EVA midsole provides lightweight support and cushioning while a steel shank offers additional reinforcement.
The board-lasted build guarantees superior torsional rigidity to reduce fatigue during long workdays.
Furthermore, the slip-resistant rubber outsole has a unique pattern that provides maximum grip on surfaces such as dirt, waxed floors, fences, and ladders – no matter what your job throws at you!
Breach 2.0 provides the highest quality construction at a price you can afford – giving you tremendous value for your money!
Whether it's for trade or everyday use, if dependable footwear is what you need, then Breach 2.0 will work hard to exceed expectations and last longer than expected.
As an added bonus, Direct Premium Buys gives back by donating part of proceeds to Operation First Response – a charity that assists wounded warriors in their recovery journey.
KEY FEATURES:
– Leather and Nylon Construction
– Gusseted Tongue for Added Protection
– EVA Midsole for Lightweight Comfort and Cradled Support
– Steel Shank for Added Support
– Slip Resistant Rubber Outsole with an Innovative Pattern
– Budget-Friendly Price Point
– A portion of Proceeds Donated to Operation First Response.
The Rocky Alphaforce Duty Boot is an exemplary work boot, designed to perform in even the most extreme conditions.
Constructed with black full-grain leather and 1000-denier nylon fabric, these hard-wearing boots are incredibly lightweight yet strong enough to tackle any job.
For added protection against moisture, they feature Rocky Waterproof construction that creates a reliable barrier that keeps your feet dry no matter what!.
Constructed from polyurethane, the Air-Port footbed reduces shock and always returns to its original form.
To add a level of comfort, it is designed with your heel and metatarsal ridge in mind – providing support as you go about your day.
The non-marking RigiTrac outsole features oil and slip resistance for extra security while a side zipper ensures an easy on/off experience.
KEY FEATURES:
– Black Full-Grain Leather and 1000 Denier Nylon Uppers
– Rocky Waterproof Construction Keeps Feet Dry in Wet Conditions
– Air-Port Cushion Footbed Provides Shock Absorption
– Non-Marking RigiTrac Outsole for Oil and Slip Resistance
– Side Zipper for Easy On/Off
– Ideal for Work, Tactical, and Law Enforcement Use.
The ROCKY SIDE ZIPPER JUMP BOOT is a must-have for any hardworking individual. These boots are built with exceptional durability and can easily be repaired should they start to show signs of wear.
Additionally, the black rubber lug outsole provides a reliable oil- and slip-resistant grip – perfect for maintaining balance on uneven grounds or when there's spilled liquid around!
Plus, it boasts a polishable toe so you look sharp even after working your hardest all day long.
Rocky Duty's Modern Paraboot is the perfect combination of features. It boasts water-resistant full-grain leather, a contoured EVA footbed, Goodyear welt construction, and a lugged outsole with a non-metallic stabilizer for maximum support and stability.
Plus, it comes complete with an easy-to-use side zipper for convenient on/off access. For any situation that requires unbeatable comfort, durability, and convenience – you can't go wrong with this choice!
When it comes to pursuing an adventurous wilderness journey or a leisurely stroll, Rocky is the go-to source for high-performance footwear.
With hunting boots, trusted work shoes, and durable casual options in Gore-Tex, Polartec, and Thinsulate fabrics – you're sure to find your ideal companion on any trail!
Whether traversing through dense woodland terrain or sitting quietly within your tree stand waiting for prey; these specially crafted Rocky Boots are designed with the hunter, hiker, and working man/woman all in mind so that no matter what lifestyle activities you pursue – you can count on them getting the job done.
KEY FEATURES:
– Water-Resistant Full Grain Leather Uppers
– Contoured EVA Footbed
– Goodyear Welt Construction
– Lugged Outsole with Non-Metallic Stabilizer for Maximum Support and Stability
– Side Zipper Closure for Easy On/Off
– Ideal for Hunting, Working, Hiking, and Leisurely Strolls.
The Salomon Men's X Ultra 3 Mid GTX Hiking Boot is the perfect solution for achieving maximum traction across a variety of terrains.
Constructed with 100% synthetic materials, this mid-top water-resistant boot features Descent Control Technology to provide extra stability and comfort during tough descents—even in wet conditions!
Whether you're hitting the trails or seeking an all-purpose work shoe, these hiking boots offer superior performance without compromising on style.
Ready for Adventure? Salomon has the perfect hiking and backpacking shoes and boots to help you reach new heights, whether you're taking a local day hike or setting off on an extended trail journey.
It's Time To Play: Conquer your next personal record with confidence! With high-performance gear designed specifically for kids, men, and women of all skill levels – from professional athletes to casual enthusiasts – Salomon can provide the support needed to conquer any challenge in running, hiking, mountaineering, or anything else.
KEY FEATURES:
– 100% Synthetic Materials
– Descent Control Technology
– Water Resistant
– Mid Top Design
– Superior Performance and Comfort.
– Designed Specifically for Kids, Men, and Women.
– High Performance Gear for All Skill Levels.
The Garmont T8 Bifida Tactical Boot is built to last and designed with the utmost attention to detail.
Made of 100% quality suede, nylon webbing, and metallic eyelets, this tactical boot comes equipped with Gore-Tex for added protection.
PU Breathable Footbed provides ultimate comfort while keeping your mission top in mind – zero optical refraction hardware at the instep ensures optimum performance no matter what environment you're in.
For additional stability on terrain, rubber outsoles are slip resistant so that each movement has maximum grip as you progress through your objectives.
When speed is paramount, this lightweight high-performance tactical boot provides unrivaled comfort and security even when you're carrying a heavy load over long periods of standing or walking.
Its durable upper construction allows for excellent breathability and ventilation which is perfect in an amphibious environment or if the climate tends to be wet. Plus, its quick-drying materials make it easy to clean too!
KEY FEATURES:
– 100% Quality Suede and Nylon Webbing
– Gore-Tex Waterproof Membrane
– PU Breathable Footbed
– Zero Optical Refraction Hardware at Instep.
– Slip Resistant Rubber Outsoles for Stability on Terrain.
– Lightweight High-Performance Tactical Boot.
– Durable Upper Construction with Breathability, Ventilation, and Quick Drying Materials.
Step into comfort and protection with the Bates Men's Gx-8 Waterproof Boot.
With features such as a 100% leather construction, breathable waterproof GORE-TEX membrane, YKK side zipper for quick on/off, slip-resistant rubber outsole, and more; these boots provide superior protection in any situation!
The waterproof full-grain leather upper offers enhanced stability while the performance nylon panels add extra durability to handle anything you may encounter.
Additionally, its removable cushion insert coupled with lightweight EVA midsole will ensure comfortable wear all day long without compromising support or stability.
Key Benefits:
– 100% Leather Construction
– GORE-TEX Waterproof Membrane
– YKK Side Zipper for Quick On/Off
– Slip Resistant Rubber Outsole.
– Removable Cushion Insert for Comfort.
– Lightweight EVA Midsole for Support and Stability.
– Performance Nylon Panels for Added Durability.
Reebok Work Duty Rapid Response RB8894 8″ Tactical Boot is the rugged and reliable footwear you need.
A combination of 100% leather/textile, a rubber sole, and a shaft measuring 7.5" from the arch makes for an ultra-durable boot that protects your feet in hazardous situations with its electrical hazard protection feature.
Plus, it keeps feet comfortable all day long with an XTR brand extra wide composite toe cap plus a removable Foot Force F2A polyurethane cushion insert – both meeting ASTM F2413 Testing Standards!
This stealth tactical boot also features a side zipper to provide even greater ease of use while being protected against any elements encountered on the job or outdoors.
KEY FEATURES:
– 100% Leather/Textile
– Rubber Sole
– Electrical Hazard Protection
– XTR Brand Extra Wide Composite Toe Cap.
– ASTM F2413 Testing Standards for Foot Force F2A Polyurethane Cushion Insert.
– Side Zipper for Easy On/Off and Secure Fit.
-Shaft Measures 7.5" from Arch.
With an unwavering commitment to serving those who train hard, Rocky designed the lightest military performance boot they've ever produced – the C4T Trainer.
Featuring a slip-resistant EVA/rubber outsole and water-resistance construction, this fast-drying tactical boot is ready for anything your training can throw at it: oils, heat, abrasions or chemicals.
Put on these boots with confidence so you can focus on tackling any mission that stands in your way! With speed eyelets and NATO hooks, the Rocky C4T Trainer will save you precious time when your day requires rigorous work.
These laces are strong enough to withstand any activity and allow for light-footed movement due to their heavy support construction.
Not only that but this round-toe boot also has no need for metal parts – guaranteeing comfort all throughout the day!
When you're on the pursuit, there should be no impediments to your mission. That's why Rocky created their C4T boot with a synthetic upper and faux Molle strap embellishments for an added layer of style.
The fitted shaft is reinforced by 550 Paracord lacing to provide extra stability while its molded EVA and rubber sole give an unstoppable grip so that nothing stands in your way!
If you're hitting the trails for a serious wilderness expedition or simply out exploring around town, Rocky has just what you need with its selection of performance footwear.
Choose from an array of hunting boots, luxurious work shoes, and dependable casual shoes made with top-notch materials like Gore-Tex, Polartec, and Thinsulate to ensure waterproofing as well as insulation.
No matter where your adventure takes you – through rugged terrain or at work – Rocky's boots are designed to keep up with any lifestyle activity; perfect for hunters, hikers, and hardworking individuals alike.
Rest assured that when it comes to reliability in challenging conditions – Rockys got your back!
KEY FEATURES:
– Slip-resistant EVA/rubber outsole
– Water-resistance construction
– Speed eyelets and NATO hooks
– Synthetic upper with faux Molle strap embellishments
– Reinforced by 550 Paracord lacing for extra stability
– Molded EVA and rubber sole to provide unbeatable grip.
Belleville Tactical Combat Boots: the Perfect Option for Men! These boots feature a highly breathable upper made from cattlehide leather and nylon fabric, perfect for keeping your feet cool on hot days.
The 8″ (Standard Military Height) combat boot in Coyote Brown is compliant with AR 670-1, AFI 36-2903, and SPFGM2020-36-01 – making them ideal for US Army personnel, Air Force members, and those serving in Space Force.
Plus you can't go wrong with the exclusive 100% rubber Vibram Ibex low-profile outsole featuring angled lugs that provide tactical traction to traverse tough terrain without adding extra weight to your footwear.
Conquer walls and mountainsides with the assistance of a heel and toe kicker.
Features rubber soles, an 8″ shaft from arch, TR-1 Premium Load bearing orthotic insoles for pain prevention, a highly cushioned EVA midsole to absorb shock upon impact with the ground as well as Breathe-Right Combat Lunar lining that wicks away sweat to keep feet dry – this shoe has it all!
KEY FEATURES:
– 8″ shaft from arch
– TR-1 Premium Load bearing orthotic insoles for pain prevention
– Highly cushioned EVA midsole to absorb shock upon impact with the ground
– 100% rubber Vibram Ibex low profile outsole featuring angled lugs that provide tactical traction
– Breathable upper made from cattlehide leather and nylon fabric.
– Rubber sole for extra grip and stability. Heel and toe kickers for added support on difficult terrain.
– Compliant with AR 670–1, AFI 36–2903, & SPFGM2020–36–01 standards.
The Bates Gx Tactical Boot is made of 100% leather and has a rubber sole. The shaft measures approximately ankle height, while the boot opening measures approximately 5 inches in circumference.
These boots feature full-grain waterproof Nubuck leather with 1680 Denier Ballistic Nylon and a breathable waterproof membrane with moisture-wicking lining to keep your feet dry.
They also have a cushioned removable insert for added comfort, a YKK side zipper for easy on and off, and a lightweight cushioned EVA midsole for flexibility and performance.
The Bates GX have a Non-Metallic ASTM F2413-11 Rated Composite Toe which offers protection at work.
The Slip-Resistant rubber outsole provides additional traction, and the Cement construction makes it a lightweight and flexible option.
Key Features:
– Full-Grain Waterproof Nubuck Leather
– 1680 Denier Ballistic Nylon
– Breathable Waterproof Membrane
– Moisture Wicking Lining
– Cushioned Removable Insert
– YKK Side Zipper for Easy On/Off
– Lightweight Cushioned EVA Midsole for Flexibility and Performance
– Non Metallic ASTM F2413 Rated Composite Toe Protection
– Slip Resistant Rubber Outsole
– Cement Construction for Lightweight Flexibility.
What Factors to Consider When Buying Tactical Boots?
If you're looking to buy tactical boots that meet your specific needs, there are certain characteristics you should consider.
A quality pair of tactical boots will be an invaluable investment: they must be dependable, breathable, and protective as well as capable of traversing difficult terrain.
Choosing the right pair is essential for ensuring maximum comfort and protection in all situations.
Here are some important factors to consider when buying tactical boots:
1. Durability – Tactical boots must be constructed from durable material that can withstand harsh conditions and rough terrain. Look for a pair of boots with reinforced toe caps, rubber soles and thick leather uppers for maximum durability.
2. Comfort – Make sure the tactical boot you buy is comfortable enough for prolonged wear in rough conditions. The interior should feature adequate padding around the heel and ankle to provide cushioning support and reduce stress points.
3. Waterproofing – Look for waterproof or water-resistant features like Gore-Tex linings or sealants on the upper part of the boot to keep your feet dry in wet weather.
4. Traction – Tactical boots need to have deep, aggressive treads on the outsoles for maximum grip and traction on slippery surfaces. Make sure the boots you choose feature a gripping rubber sole that won't slip when navigating tricky terrain.
5. Design – Consider your environment when selecting tactical boots. If you'll be operating in hot climates, look for a breathable design with air vents to keep your feet cool and reduce moisture buildup.
Navigating the Landscape of Tactical Boots – A Comprehensive Buyer's Guide
The Cost
When it comes to tactical boots, you typically get what you pay for. The prices can range from moderately priced value-grade models to expensive top-grade professional gear. Consider your budget and needs before making a purchase.
The Fit
A good fit is essential when it comes to buying any type of footwear, especially tactical boots. Make sure that the boot fits snugly but also allows room for movement and comfort; too tight of a fit will cause discomfort and blisters while too loose may make the boot unstable.
Durability
Tactical boots should be built to last so look for models with features like double and triple stitching, reinforced eyelets, reinforced heel counters, and oil-resistant outsoles. Quality materials such as leather or synthetic fabrics are also a must for long-lasting performance.
Waterproofing and Breathability
If you'll be exposed to wet terrain, look for boots with waterproofing features like Gore-Tex technology or other breathable membranes. These will help keep your feet dry while at the same time allowing moisture from inside the boot to escape, keeping them comfortable and fresh in any weather conditions.
Grip and Traction
Having good traction and grip is an essential feature when it comes to tactical boots. Look for models with deep lugs that can provide superior grip on varying surfaces such as mud, dirt, rocks, gravel, snow, ice, and more.
Exploring the Pros and Cons of Leather vs. Synthetic Boots
Leather boots offer superior protection and durability, however, they require regular maintenance to keep them in good condition. They can also be heavier than synthetic boots which may be more suitable for prolonged periods of wear.
Synthetic tactical boots are lightweight and often waterproof making them a great option for wetter climates or activities like mountaineering. However, the fabric may not stand up to rugged terrain as well as a leather boot might and is generally less durable.
No matter what type of tactical boot you choose, make sure it's comfortable and provides the support and protection you need to get the job done!
Boot Height – 6″ vs. 8″
When traversing rough terrain, full-size 6″/8″ high-ankle tactical boots are a must – they offer better protection than low-ankle alternatives and help prevent any potential injuries.
On the other hand, lightweight 4"/5" low-ankle tactical boots might be preferable for shorter trips or missions with lighter gear; however, if you lack proper ankle support in these situations it could lead to an injury.
Urban areas lacking heavy loads on your back can also benefit from lower ankles due to their improved agility.
The Competition
WWOODTOMLINSON Combat Boots: WWOODTOMLINSON offers affordable, Chinese-made tactical boots that suffer from poor quality. The difficulty in pronouncing the brand's name serves as a red flag. These boots typically last no longer than three months, making even a pair of Chuck Taylors a better option. It's best to avoid this brand.
IODSON Ultra-Light Tactical Boots: These boots are essentially the same Chinese model as the WWOODTOMLINSON boots, just sold under a different brand name. They share the same lack of durability, so it's advisable to steer clear of them.
CQR Mid-Ankle Tactical Boots: CQR's "tactical boots" are more similar to sneakers than actual boots. They lack durability, and if you're looking for a budget-friendly "tactical sneaker," we recommend choosing models from Bates or 5.11 instead.
Belleville Tactical Research TR105 Mini-Mil Combat Boot: This lightweight tactical boot comes from the reputable Belleville Tactical Research company. However, this specific model is less durable than others in their line, likely due to its lighter design. For a more reliable lightweight boot, consider options from Danner or the budget-friendly Rocky CR-4.
Original S.W.A.T. Metro Air 9″: Despite the name, these boots don't live up to the S.W.A.T. standard. Reviews indicate they last only 6-12 months with daily wear before falling apart, and some Amazon reviews may be questionable. If you're drawn to the design, check out Bates for better quality and value.
Maelstrom LANDSHIP 8″: Another low-cost boot model from China, these boots lack a slip-resistant outsole, and common quality issues include soles separating after a few months. Verdict: Save your money and invest in a higher-quality option.
Maelstrom TAC ATHLON: This Chinese-made tactical boot from Maelstrom is slightly better constructed than their Landship model. However, it lacks ventilation, is quite heavy, and has a rigid sole. Expect quality issues with this inexpensive duty boot, which may last up to six months at most. The outsole is not slip-resistant.
Maelstrom Tac Force: Another budget tactical boot from Maelstrom, this model looks good but lacks reliability. Its durability is unpredictable, with the potential to last a year or break down in just a few weeks. It is also not slip-resistant.
Under Armour Stellar: These boots are not slip-resistant, uncomfortable, lightweight, and feature poor-quality rubber. They retail for around $80, but better options can be found with brands like Rocky, Reebok, or 5.11.
Under Armour Valsetz RTS: Despite being one of the most popular tactical boots on the market, the Valsetz RTS suffers from material and construction quality issues. It's more akin to a fortified sneaker than a true tactical boot, making it suitable as a "mailman's boot" rather than a "soldier's boot."
WIDEWAY 8″ Military Tactical Boots: Wideway is another Chinese white-labeled tactical boot brand with poor quality and unpredictable durability. For the price, consider a better option from 5.11's lineup.
WIDEWAY Military Tactical Boots: Similar to the previously mentioned Wideway model, this mass-produced Chinese boot shares the same issues.
Magnum Elite Spider 8.0: While Magnum's combat boots are built better than cheap Chinese models, they're still not designed to last. It's wiser to invest your money in a different brand.
Magnum Viper Pro 5 Tactical Boot: Magnum's quality has declined in recent years, and these boots suffer from narrow sizing and occasional quality issues. The hassle is not worth it; we recommend opting for Bates boots instead.
How to break in your tactical Boots
Breaking in your tactical boots is essential to ensure they fit perfectly and provide the best possible support.
Here are some tips to help you break them in:
– Wear the boots around for thirty minutes to an hour with a thin pair of socks, gradually increasing the length of wear over time.
– Lace your boots tightly and ensure that they fit snugly, as this will help prevent blisters and hot spots.
– Use leather conditioner or mink oil on the leather parts of your boot, which will soften them up while providing additional protection from water and dirt.
– Place insoles into your boots to provide extra cushioning and support in areas where you may experience discomfort.
Follow these steps to ensure that your tactical boots are comfortable, supportive, and ready for any mission! By doing so, you'll be able to maximize their performance and longevity
Be sure to consider your budget and needs before making a purchase. Doing so will help you find the perfect boot that meets all your requirements!
Choosing the Right Socks for Tactical Boots
Often, individuals who find their tactical boots uncomfortable may be wearing them with unsuitable socks.
Ensuring that you have the appropriate socks, particularly during the break-in period, is crucial. Avoid breaking in your boots with thin cotton socks.
To enhance your experience with your new tactical boots, invest in several pairs of proper socks. Here are two essential guidelines to follow:
Opt for Long Socks: Short socks can cause chafing around your ankles. Longer socks provide better coverage and protection against friction.
Steer Clear of Cotton: We recommend choosing materials such as a wool/nylon blend for your socks. If your budget allows, Darn Tough socks are an excellent high-quality option.
Wool is a fantastic material for socks because it helps to regulate your feet's temperature. It keeps your feet warm when it's cold and wicks away moisture when it's hot.
If you haven't experienced the benefits of wool socks yet, you're in for a pleasant surprise.
Navigating Cold and Hot Weather Conditions
This guide primarily addresses "standard" tactical hiking boots, which are designed to withstand a variety of conditions. They can even manage occasional snow days.
However, if you require footwear specifically for winter conditions, consider investing in insulated, high-ankle leather boots, similar to those used for winter hunting.
These boots provide better protection and warmth during colder months. Stay tuned for an upcoming article that delves deeper into this topic and offers recommendations for the best winter boots.
FAQ About Tactical Boots
Q: What is the difference between a tactical boot and a regular boot?
A: Tactical boots are designed specifically for use in field operations, law enforcement, security work or other military-style activities.
They provide increased support and protection compared to regular boots, as well as features such as waterproofing and breathability that are essential in certain environments.
Q: Is it worth investing in a high quality pair of tactical boots?
A: Absolutely! Quality tactical boots can last longer than standard footwear, offering superior comfort and support while protecting your feet from injury.
Investing in a quality pair of tactical boots is an important step to ensure you're prepared for any situation.
Q: How do I care for my tactical boots?
A: The first step to maintaining your tactical boots is to clean them regularly with a damp cloth; this will help remove any dirt or mud that may build up.
It's important to treat your boots with a waterproofing solution and conditioner. This can help protect the leather from water damage and keep it looking like new for years to come.
Finally, ensure you store them in a cool, dry place when you're not wearing them.
Q: What type of sole should I look for in a pair of tactical boots?
A: Look for a sole that offers excellent traction on various surfaces, such as gravel, dirt, rocks, and wet surfaces.
A sole made from an oil-resistant material is ideal for use in industrial settings. Finally, make sure the sole has adequate arch support for additional comfort.
Q: Are there any special features I should look for in a pair of tactical boots?
A: Yes! Many tactical boots come with extra features that can be useful in certain situations.
These may include steel toes or composite materials to protect your feet, shock absorbent cushioning to reduce impact and fatigue, and gusseted tongues to keep out dirt and debris.
Q: Are there special considerations for hot and cold weather?
A: Yes! During hot, humid climates, look for a pair of tactical boots that are breathable and lightweight. This will keep your feet cool while still providing adequate protection.
In colder temperatures, opt for a boot with insulation to keep your feet warm and dry. You may also want to look for moisture-wicking liners and waterproofing materials if you anticipate wet conditions.
Q: What should I wear my tactical boots with?
A: Tactical boots look great when paired with a variety of clothing styles, depending on the environment you're in. For casual settings, try wearing them with jeans or khakis; for more formal occasions, dress them up with a blazer and trousers.
Q: Are there any safety tips for wearing tactical boots?
A: Yes! Be sure to wear the correct size for your feet. A well-fitted boot will provide better support and reduce the risk of injury.