Best Gifts for police officers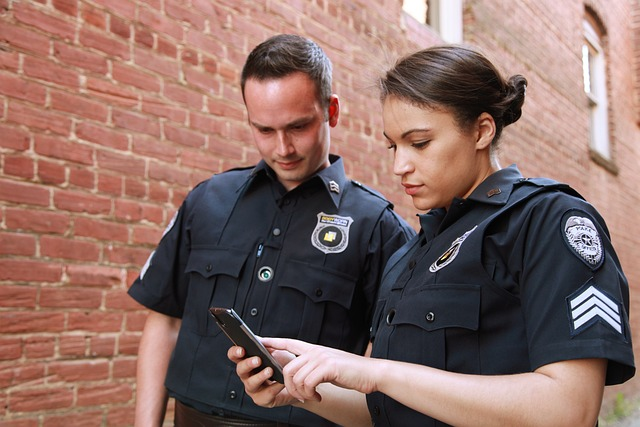 Want to know the best gift for police officers? Are you looking for the perfect gift to show your appreciation and support for police officers? Recognizing their hard work, dedication, and service to our communities is essential.
With all they have in their jobs, selecting a meaningful and unique present can be challenging.
To help narrow down your selection process – here are some of the top gifts out there that make ideal presents for those who proudly serve as police officers!
They can display mementos with pride in their homes and offices to everyday items to help them stay comfortable while on patrol or performing duties.
These great gift ideas will surely put a smile on any policeman or policewoman's face.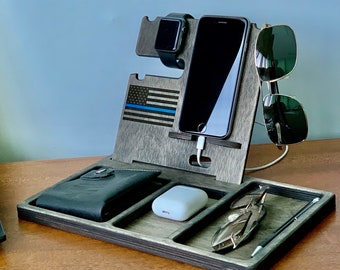 A portable nightstand made from quality wood could make a great gift for your favorite police officer. The docking station includes space for keys, a flashlight, a wallet, a watch, and sunglasses. The nightstand also has a phone charging station so the police officer can always make and receive important calls. You can customize this gift with the recipient's badge number, initials or name in 3D letters as well.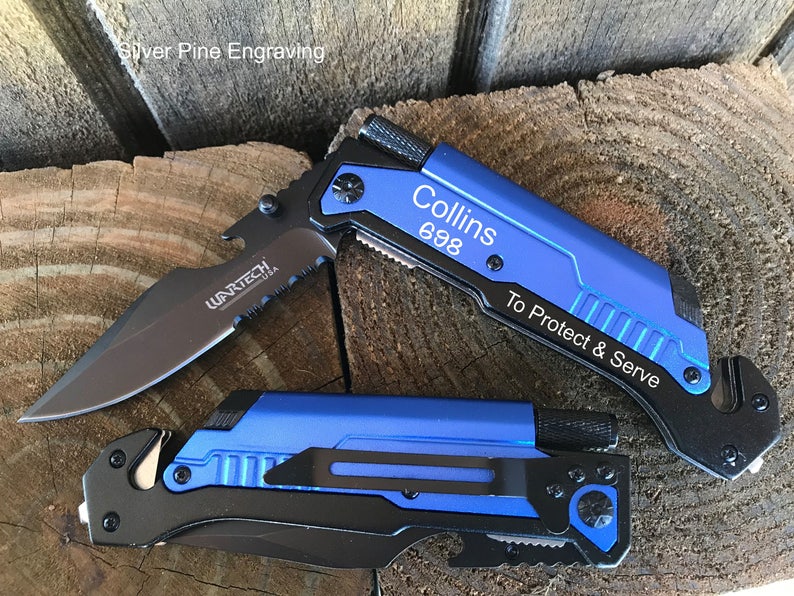 If you're getting a gift for a police officer who works outdoors often and may need to get out of challenging situations quickly, consider the tactical gear set. The set includes a quality pocketknife, a fire starter, glass breaker, seatbelt cutter, flashlight and bottle opener. This set is easy to carry, and the parts fit together to create one compact device. Personalize this gift by adding the police officer's name and the date of his/her graduation or promotion.
A classy gift like a leather wallet is both impressive and practical. You can engrave the front of the wallet with the officer's name or initials for customization and to prevent theft. The leather is soft to the touch and the bifold design fits perfectly into the pockets of a police uniform.
If your spouse is a police officer or you have a parent who is retiring from the police force, you can gift them with stunning wall art. The art honors their work serving as a decorative piece for the home. This wall art features the American flag and you can add your family name to the canvas along with the recipient's graduation date, dates of service on the force, or badge number. You can choose from a black frame, an unframed image, or the digital copy so you can select a frame of your home.
This beautiful black and white blanket with a striking blue stripe makes a wonderful gift for a police officer who enjoys relaxing at home during his/her time off. The blanket contains a Bible verse: "Blessed are the peacemakers, for they shall be called the children of God." This inspiring scripture should serve as a reminder that police officers are called to make our communities safer and peaceful. You can choose from small, medium and large sizes for this touching gift.
A T-shirt is an ideal gift for an officer who still wants to showcase his/her professional while off-duty. Customize the shirt with the officer's last name and choose from American flag designs for the front of the shirt. These gifts are available in light gray, navy, and black, and in sizes small to 3XL.
Many police officers work long hours without much downtime. You can show how much you care with a gift basket filled with "essentials." This box contains a coffee-scented candle, a book of matches, two key chains, a "donut resist" pillow, and a customized greeting card. You can give this as a thank-you gift, a birthday present, or as part of a retirement gift.
Give a police officer you love a whiskey glass engraved with a police badge, the year the officer joined or retired from the force, and the officer's last name. You can choose to feature the design on one or both sides of the cup. These glasses are a sophisticated gift, but you can also use them as party favors for a police officer's retirement party or to celebrate his/her promotion.
A tumbler is a decorative yet practical gift that helps keep drinks cold or hot. Whether the recipient enjoys coffee on the go or wants to use the tumbler for a cocktail at the end of a long day, this gift will come in handy. The tumbler comes in black or silver and includes an image of the U.S. flag with a bold blue or red stripe.
Spruce up your police officer's desk with a light shaped like a badge. You can personalize the light by adding his/her badge number. The desk light changes color for more visual appeal and you can choose from several designs .
If you want to present chocolates to the police officer you love in a creative way, this specialty box of chocolates is the way to go. These sweet treats come in shapes like handcuffs, talk radios, batons, and badges. The chocolates are available in dark chocolate, milk chocolate, or white chocolate varieties. You can present these as party favors at a party or celebration for the police officer as well.
This monogrammed gift is a wonderful way to display how proud you are of your child or spouse. This outdoor name sign is shaped like a police badge and features a monogram of your family name as well as space to spell your entire last name. You can choose from a variety of sizes, from 16 inches to 36 inches. The sign is available unpainted, or you can choose from a variety of colors including pink, green, coral, rose gold, silver, orange, navy blue, and gray.
If you plan on presenting a bottle of wine or champagne as a gift for a police force graduation or retirement party, make the gift more memorable with a bottle insulator shaped as a tactical vest. You can also give these gifts to the other officers on your loved one's police force and customize each of the insulators with the last name of the officer. A gift of wine is always appreciated; this eye-catching insulator makes your gift more impressive.
More Gift Options
14. Electronic Travel Mug
Police officers enjoy coffee, that's a fact. Coffee is an essential source of fuel to help an officer get through a long day on the job. Unfortunately, coffee goes cold quickly while on the job as they are usually busy with their law enforcement duties. That's where an electronic travel mug comes in. It will keep their coffee (or tea) nicely heated until the very last drop.
15. Search Gloves
Most days on the job, an officer will need to perform some sort of search and it's not always pretty. Whether they are searching a person, house, or vehicle, there are all sorts of surprises that can be encountered. The situations are usually less than sanitary, not to mention the dangers of sticking their hands somewhere unknown. Also, on crime scenes, gloves are required so that evidence is not compromised. For these reasons, it's handy for a cop to have a decent set of search gloves.
16. Concealed Carry Clothes
Whether on shift or not, being a police officer is an around the clock job. Many cops need to have their weapons with them at all times just in case they receive an emergency call. As most will be in plain day clothing, there isn't really anywhere they can keep their weapons without them being seen by everyone. Concealed carry clothing looks like normal clothing but also features hidden pouches, holsters and compartments where they can keep things concealed.
17. Pocket Knife/Multi-Tool
Anyone in law enforcement will benefit from owning a decent pocketknife. Many officers would agree that the versatility of carrying one makes it a useful part of their utility kit. Some typically scenarios where officers could use a folding knife would be for cutting tape for cordoning off a crime scene or slicing a seat belt if someone is stuck inside a crashed vehicle. Ideally, you want to get one that's serrated as it will be better and sawing through things.
18. Handcuff Keys
Although all sets of cuffs will already come with keys, they are usually small and are easy to lose. In a pinch, when cops need to get someone aggressive in cuffs fast, it may be hard to dig them out. Upgrading them to a bigger version will make a huge difference and it can sit in the front pocket of their uniform for easy access.
19. Seat Organizer
If you consider someone who works in an office, they usually have an organization system to keep all their tool in place, like drawers, pen holders etc. A cops' vehicle is essentially their office and they too could use something to keep everything organized. A cop needs their equipment easily accessible as they never know what situation will arise. Having their manuals, traffic citations, flashlights, cuffs etc. in a seat organizer can help them find everything much easier.
20. Durable Phone Case
We all know the feeling when we drop our phones and flinch as they fall to the ground, hoping they don't break. In the line of duty, cops are performing more fast-paced and risky activities than we are. They have a higher probability of dropping their phone on a daily basis and so having a good phone case can save them a lot of hassle. Look for a case that is shatterproof, waterproof and dustproof just to cover all the bases.
21. Hinge Cuffs
Police Officers all carry handcuffs that have been supplied by their department, but it never hurts to have an extra pair around. Hinge cuffs specifically are more secure than the traditional cuffs, making it more difficult for a subject to get their arms in front of them. This ensures the prisoner is unable to escape, which is less stressful than dealing with an escapee.
22. Cool Cop Vest Cooling System
If you've ever sat in a car in the summer, you know how hot it can get. Now imagine wearing body armor, a uniform and spending hours in there. For cops, it can get pretty sweaty in there and this vest cooling system will be their saving grace. It features a hose that funnels air from the AC of the car into their clothing. You can even get a specialized model for K-9 dogs.
23. Gear Bag
Cops have a lot of gear that they need to carry around on a daily basis. It can be tiresome to continuous move things are when everything is loose. Gear bags allow officers to easily tote around their equipment and multiple compartments mean everything is organized and accessible.
24. Waterproof Writing Set
A police officer has to be ready to work, rain or shine. They don't get to rest when it rains and actually the workload can sometime increase in bad conditions due to vehicle collisions. Paperwork still needs to be done, which can be made difficult by the rain. Luckily, there is waterproof paper and pens that allow them to record details regardless of the conditions.
25. Language Software
Give the gift of bilingualism with language learning software for your favorite cop. Since officers' deal with people of all different cultures on the job, it can be incredibly beneficial to know multiple languages so they can communicate. Though it is not essential to be fluent in other languages, it is a skill that will aid them as an officer or if they decide to pursue a different profession.
26. Golf Gear
It may seem like a weird one, but cops like to have hobbies too. Playing golf is a great stress reliever to those who work in high-stress positions like a cop. Stress can be detrimental to your health so it's essential to relax out of hours. Golf is just one example, but any hobby related gift could be a great gift for them.
27. Bedside Organizer
Small, organizational improvement can make a huge different in a cops life. The less they need to worry about, the most they can focus on the task at hand. Law enforcement involves a lot of emergencies and unpredictable situations where they wake up and need to run. They don't have time to dig around for their phones or keys. Having a bedside organizer will keep all their important items in one place so they can just grab and go.
Regardless which gift you choose for the cop in your life, the most important gift you can give is friendship and encouragement. They work hard and their job isn't easy, but the reassurance that they are loved and appreciated will keep them going. At the very least, they deserve a thank you.
28.Customized Badge:
Honor your police officer with a customized badge that is made to order. With the option to choose the badge shape and engrave any name, rank, service number, or message of your choice – this gift is sure to be treasured for years.
29.Tactical Flashlight:
Equip your police officer with a tactical flashlight that is both powerful and practical. Featuring a bright LED light, multiple modes, and adjustable zoom – this is an excellent gift for those who are often out in the dark.
30.Police Officer Coffee Mug:
Please show your support and appreciation with a custom-printed coffee mug that celebrates your profession as a police officer!
31.Leather Notebook:
Find the perfect gift for your police officer with a personalized leather notebook. Embossed with their name or service number, this is the perfect gift for jotting down notes and memos during patrols.
32.Police Officer T-Shirt:
Please show your support in style with a custom-printed t-shirt featuring their rank, badge, or favorite saying.
33.Office Supplies: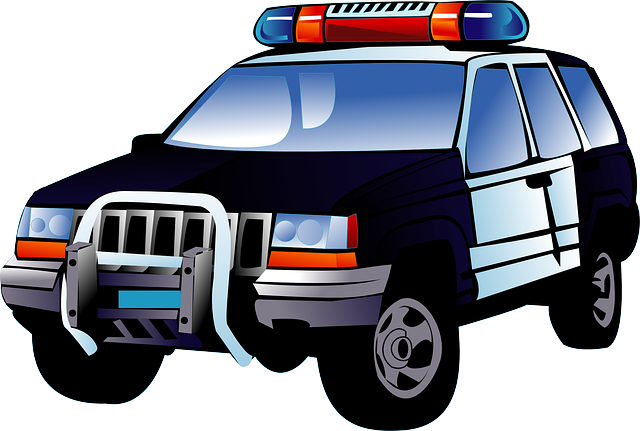 Help keep your police officer organized with office supplies such as an engraved pen set, business card case, and desk accessory.
34.Gift Card:
For those who are hard to shop for, opt for a gift card that can be used on any occasion!
35.Personalized Plaque:
Honor your police officer with a personalized plaque they can proudly display in their home or office.
36.Police Officer Ornament:
Commemorate their service with an ornament that features their badge or rank.
37.Personalized Wall Art:
Celebrate your police officer with a unique piece of wall art that showcases their proud profession – perfect for displaying in the home or office!
38.Car Accessories:
Make their patrol car even more comfortable with car accessories like seat cushions or custom-printed window decals.
39.Self-Care Gift Basket:
Show your appreciation with a self-care gift basket that includes spa vouchers, scented candles, chocolates, and more!
40.Police Officer Hat: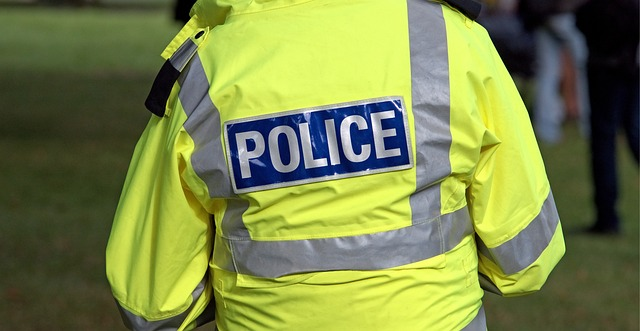 Top off their uniform with a stylish police officer hat that features their name or badge.
41.Portable Charger:
Ensure their devices are always charged with a portable charger that can fit in any pocket or bag.
42.Fitness Gear:
Help your police officer stay fit and healthy with fitness gear such as a gym bag, water bottle, or jump rope.
43.Gift Hamper:
Surprise them with a gift hamper filled with snacks, drinks, and other goodies they can enjoy while on duty.
44.Gift Basket:
Please show your support with a carefully curated gift basket that features items they can use in the line of duty.
45. Thin Blue Line Flag
Conclusion:
Finding the perfect gift for a police officer can be challenging – but it doesn't have to be! With these top gifts, you will find something to show appreciation and support. They can proudly display souvenirs in their homes and offices to items to help them stay comfortable while on patrol or performing duties. These great gift ideas will surely put a smile on any policeman or policewoman's face. Thank them for their service and dedication with one of these thoughtful presents!
FAQs:
What are the Best Gifts For Law Enforcement Officers?
The best gifts for law enforcement officer include tactical flashlights, personalized coffee mugs, leather notebooks, police officer t-shirts, office supplies, gift cards, and personalized plaques.
Where Can I Find a Police Officer Gift Ideas?
You can find police officer gift ideas at your local department stores, online retailers, and specialty shops.
What are Some Unique Gifts for a Police Officer?
Some unique gifts for police officers include personalized whiskey glasses, novelty gifts, and even a portable charger to help them stay connected while on duty.
What are the Best Gifts for Someone in Police Academy?
The best gifts for someone in a police academy include personalized wall art, car accessories to make their patrol car more comfortable, a self-care gift basket, and even a police officer hat.
Are There Any Other Gift Ideas For My Favorite Police Officer?
Yes! Consider a fitness police gear gift basket, a thoughtful gift hamper, or even Cops Makes Shopping – a unique online shop offering police-related merchandise.
What are Some Gifts to Help an Officer Relax?
Police officer gifts that can help an officer relax include spa vouchers, scented candles, chocolates, and other luxurious items. Consider putting together a self-care gift basket for an exceptional present.
Are There Any Thin Blue Line Gifts For Police Officers?
Yes! Thin blue line gifts for police officers include plaques, decals, and apparel featuring the iconic 'thin blue line' symbol. This is an excellent way to show your appreciation and support for law enforcement officers.
Are There Any Personalized Gifts for Police Officers?
Yes! You can customize items such as t-shirts, coffee mugs, plaques, and more with a personalized message or their name or badge number. This is an excellent way to make your gift truly special and unique.
Where can I buy a thin blue flag?
Amazon.com and etsy.com is one of the best ecommerce places to buy thin blue line flags.