How to Prepare Your Polygraph
If you're interested in getting an honest and unbiased book review on the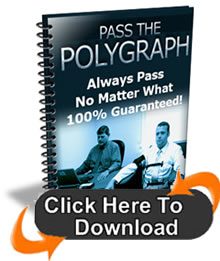 polygraph test from someone who doesn't sell them and you'd like to learn the unadulterated truth about how to prepare for your such a test, then you've come to the right web page.
Lately, I've been getting a lot of emails from people who have failed their polygraph test even though they were telling the truth. Since I'm not a polygraph examiner, it was hard for me to answer some of these questions. I decided to find a professional that has experience and knowledge on the polygraph test; that's when I stumbled across this unique book you see to your right.
After months of research, I have finally found someone who has published a valid and professionally written guidebook on how to prepare for the polygraph test without using nontraditional tactics found over the internet (which is never a good idea). If you are looking for ways to trick or cheat the examiner, you are going into the wrong profession.
The best thing about this book is it was not written by some random person trying to make a profit. The information in this guide is insightful and full of useful information about polygraph tests. In fact, I was  shocked to learn simple things like extreme nervousness/anxiety can trigger deception even if you are being 100% truthful.
It's called Pass The Polygraph written by a real-life professional law enforcement expert.
You could spend hours or even days searching the internet, combing through Amazon.com, doing research in the libraries, or browsing aisle after aisle in the bookstores and you will never find a resource with a more complete and objective analysis of  the polygraph test than you will in  Pass The Polygraph.
The book focuses much of its material on the mistakes candidates make during the polygraph test. You will learn why many candidates fail the test, even when they are telling the truth.
This guide is perfect for applicants of:
Local Law Enforcement (police, troopers, sheriffs, dispatchers, corrections officers)
Firefighters
FBI
CIA
DEA
ATF

Secret Service
Border Patrol
Customs
Postal Inspectors
Security Guard

When you read pass the polygraph, you will discover what I have been teaching my subscribers and website visitors for the last year or so, that most of these so-called polygraph tricks and rehashed techniques you find online are a complete waste of time and every polygraph examiner knows about them.
I don't recommend or endorse any polygraph ebook that teaches ways to cheat the polygraph exam! As I stated earlier, looking for ways to deceive the test is never a good idea and if that's your intention…POLICE WORK IS NOT FOR YOU.