We're reader-supported. When you buy through links on our site, we may earn an affiliate commission.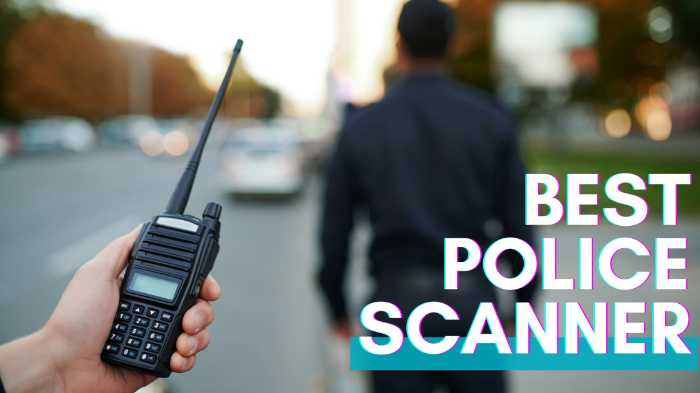 Looking for the best police scanner?
Are you tired of relying on second-hand information when it comes to local emergencies, natural disasters, or crime sprees?
Get ready to be in the know! In this article, we've compiled the Top 7+ Best Police Scanners for 2023 that will keep you informed, empowered, and ahead of the curve.
Discover the perfect device to satisfy your inner detective, as we dive into each scanner's features, capabilities, and benefits.
So buckle up, and let's embark on a thrilling journey to find the ultimate police scanner that will transform the way you stay connected with your community!
Quick Rundown of The Best Police Scanners of 2023
What is a Police Scanner?
A police scanner, also known as a radio scanner, is a communication device that receives and monitors radio frequencies used by law enforcement agencies, emergency services, and other public safety organizations.
These scanners allow users to listen in on real-time conversations between police officers, firefighters, paramedics, and other first responders as they communicate through their radio systems.
Police scanners come in various types, including handheld, mobile, and desktop models, each designed to cater to different needs and preferences.
By using a police scanner, individuals can stay informed about local incidents, emergencies, and ongoing situations in their area, enhancing their overall awareness and preparedness.
The Top 7+ Best Police Scanner
Below we outline the best police scanners available in the market, taking into consideration their features, performance, and functionality to help you make an informed decision and stay connected with your community like never before.
Introducing the Uniden BCD436HP Series Digital Handheld Scanner. Experience the perfect fusion of cutting-edge technology and user-friendly design with the Uniden BCD436HP Series Digital Handheld Scanner.
This innovative scanner combines the ease of use of HomePatrol-1 with the convenience of a handheld device, making it the ideal choice for both beginners and seasoned enthusiasts.
Key Features:
HomePatrol-1 Ease of Use: No programming needed! Simply enter your zip code and let TrunkTracker V do the rest.
Close Call RF Capture: Uniden's exclusive feature allows you to instantly tune into nearby transmissions.
GPS Connectivity: Connect your scanner to a compatible GPS device for precise system selection and location-based scanning.
Extra-Large Display: Boasting the largest display on the market, the BCD436HP offers crystal clear information at a glance.
Advanced Radio System Analysis and Discover Modes: Access the most advanced scanner features right in the palm of your hand.
USA/Canada Radio System Database: Utilizes Radio Reference's extensive database for accurate monitoring of nearby systems.
Instant Replay: Playback up to 240 seconds (4 minutes) of the most recent transmissions.
Custom Alerts: Personalize your scanner with different tone patterns, volume settings, colors, and flash patterns for various alerts.
Stay informed and prepared with the Uniden BCD436HP Series Digital Handheld Scanner.
Whether you're monitoring Public Safety, Police, Fire, EMS, Ambulance, Aircraft, Military, Weather, or more, this versatile digital scanner ensures you're always in the know.
With its advanced features and unparalleled ease of use, the BCD436HP is the ultimate tool for any scanner enthusiast.
Uniden HomePatrol-2 Digital Scanner Review The Uniden HomePatrol-2 stands out as one of the top choices for Digital Police scanners available today.
It enables users to tune in to communications from Public Safety, Police, Fire, Ambulance, Aircraft, Military, Weather, and many more sources with ease.
To use, simply input your zip code, and the HomePatrol-2 takes care of the rest, keeping you informed about events happening across town or just around the corner.
The scanner is compatible with all unencrypted, non-proprietary radio systems, including APCO-25 Phase I and Phase II digital, Motorola, EDACS, LTR, conventional analog, and P25 digital channels.
Coverage extends across the USA and Canada, with an optional GPS receiver available for purchase.
Inside the box, you'll find the HomePatrol-2 Scanner, Flex Antenna, Desk Stand, USB Cable, 4 x AA NiMH Rechargeable Batteries, and an SMA to BNC Adapter.
Please note that an AC or DC power adapter is not included. To power the device and/or charge the NiMH batteries, use the provided USB cable to connect your HomePatrol-2 to a standard smartphone USB power adapter (not included) or your computer's USB port with DC5V power output (not included).
The unit also comes equipped with a standard headset jack, allowing you to connect headphones for private listening without disturbing others around you.
Key Features:
Easy setup with zip code input
Compatible with various radio systems
Covers USA and Canada
Optional GPS receiver
Included accessories: Flex Antenna, Desk Stand, USB Cable, 4 x AA NiMH Rechargeable Batteries, SMA to BNC Adapter
Standard headset jack for private listening
The Whistler WS1065 Desktop Digital Scanner is a powerful and reliable device that offers exceptional performance.
With menu-driven programming and context-sensitive help, this scanner is very user-friendly and easy to operate.
Each menu item provides assistance with programming and using the scanner, making it ideal for both beginners and experienced users.
With Scan List functionality, you can group and scan objects according to your preference, allowing for a customized scanning experience.
Additionally, frequencies remain stored in memory for an extended time, even without batteries, thanks to the memory backup feature.
Unlike older scanners that had memory organized in rigid and wasteful memory banks, the WS1065 features free-form memory organization.
This means that memory allocation is dynamic and efficient as it is needed, resulting in less waste and more efficient use of memory.
The scanner also includes a Skywarn Storm Spotter Function, providing instant access to frequencies used by storm spotter networks.
With multi-system trunking, you can tune and find new and unlisted frequencies starting from a specified frequency.
The digital AGC instantly compensates for low user audio levels that are common on digital systems, ensuring clear and consistent audio quality.
The WS1065 is also capable of scanning most common trunked radio system signaling formats, including Motorola, EDACS, LTR, and P25 trunked radio networks.
Both talkgroup and individual call monitoring are supported, making this scanner a versatile and powerful tool for staying informed about local events.
Key Features:
Menu-driven programming with context-sensitive help
Scan list functionality for customized scanning
Memory backup for extended storage
Free-form memory organization
Skywarn Storm Spotter Function for instant access to storm spotter frequencies
Multi-system trunking for finding new frequencies
Digital AGC for clear audio quality
Scans most common trunked radio system signaling formats
Supports talkgroup and individual call monitoring
The Uniden BEARTRACKER 885 is a state of the art CB radio that offers you more than just standard communication. It allows you to monitor public safety transmissions, as well as receive GPS data and alerts.
This model features an easy to read 7 color display, ergonomic noise cancelling microphone and 40 channels.
You can also use the Uniden BearTracker 885 for monitoring nearby scanner channels with its auto channel select feature.
The BearTracker 885 full-featured CB radio is an all in one device that offers you many features that will help keep you safe while on the road or out in nature.
It is the best handheld police scanner hybrid designed to keep you updated on what's going on nearby while you drive.
The BEARTRACKER also includes a digital trunktracking scanner that lets you monitor local emergency services broadcasts.
The BearTracker warning system that alerts you to potential dangers along your route, and the radio remembers your favorite channels so you can set it up quickly.
Pros:
You can keep your family safe by listening to emergency broadcasts
This scanner is easy to use and has a clear display
It also has a built-in flashlight for emergencies
There's a NOAA weather band
Cons:
Large amount of static compared to other models
The audio interface for this scanner is slightly lacking
The Uniden BC365CRS is a 500 channel scanner and an alarm clock with snooze. This dual-function device has a large, easy-to-read display with backlight and an adjustable volume control.
This radio scanner can be programmed to scan 10 banks of channels, containing up to 500 channels each, for local public safety transmissions such as police, fire department, emergency medical services (EMS), and more. In addition to the scanning function it also acts as an AM/FM radio with 30 presets for your favorite stations.
The integrated FM radio lets you wake up to your favorite FM station, a weather channel, or scanning. An alarm clock allows you to set an alarm and be notified when hazardous conditions arise using the Weather Scan Alert feature.
The large, clear LCD display is easy to read in the dark. So you won't have to search in the dark for buttons, they're well laid out for ease of use.
The Uniden BC365CRS has an attractive design that is ideal for home use. It can even function as a speaker dock for your iPod or MP3 player. The BC365CRS will let you know what's going on where you are.
Pros:
Uniden BC365CRS does not have a trouble with cordless phones, cellphones, or wireless internet
The battery lasts for about 10 hours of continuous use
You will receive useful alerts including sound and visual notifications on your device when there is an emergency in your area
Cons:
The Uniden BCD996P2 is the newest addition to Uniden's line of digital scanners. It features a color display, GPS compatibility, and Close Call RF Capture Technology for enhanced reception.
This scanner has an extensive memory bank with 25000 channels 1,800 priority channels, which allows you to store frequencies from all over the world.
You can also use this scanner as a 2-way radio if you add an optional accessory kit (sold separately). The BCD996P2 comes with preloaded data for North America including Alaska, Hawaii, Canada and Puerto Rico.
It's packed with features including location-based scanning; Location Alerts; S.A.M.E. Weather Alert, and more!
The BCD996P2 also instantly identifies digital systems and alerts you when a signal is detected by using its exclusive Dynamic Memory System to store system information for later recall.
You can even set up your radio scanner to automatically mute during specified hours and days.
Pros:
Can pick up both analog and digital transmissions
Easy to operate
Preprogrammed with over 9000 frequencies, so you can start using it right out of the box
Has helpful features, such as a signal strength indicator and backlit display
Cons:
Complaints about the build quality
Uniden's BC75XLT is a compact and lightweight 300-channel handheld scanner that lets you monitor your local area for emergency, weather and other important public service broadcasts.
With 10 search ranges and Close Call RF Capture Technology, the BC75XLT can pick up signals from nearby transmitters with strong signals.
The Close Call feature reduces false alarms by ignoring weaker signals that could otherwise be mistaken for the one you want to listen to. Uniden has included its Do Not Disturb mode on this scanner to prevent interruptions during emergency communications or when scanning in areas where reception is weak.
This device has the capability of scanning between 25 and 512 MHz. This product also comes equipped with a USB charging port. The scanner's batteries can be recharged by plugging them into your computer, or you can use adapters for mobile phones.
The Narrowband Compliant feature allows it to receive digital signals from fire departments, local police stations and other public safety agencies that are using newer equipment. This product requires 2 AA batteries which are not included in the package.
Pros:
Built-in weather band for keeping updated with the latest forecasts
Ultra compact and lightweight
Long battery life of up to 14 hours per charge
Cons:
The Uniden BCD536HP is the next generation of scanner. The HomePatrol-2 was designed from the ground up to be easy for anyone to use, while delivering performance and value that experienced users demand. The intuitive interface and large color touchscreen make setting up your system fast and simple.
Quickly capture frequencies with the integrated Priority Channel Scan or search all available channels in a matter of seconds. Add a GPS receiver (sold separately) to track any frequency in real time on the digital map or view it on the larger color touchscreen.
It is the first digital police scanner to incorporate Wi-Fi connectivity, allowing users to listen to and control radio functions using a smartphone or tablet.
The BCD536HP also includes an integrated GPS receiver and Bluetooth, allowing you to connect an optional GPS antenna (like the BC-GPSK) for faster satellite lock than traditional scanners.
With access to both X Band and K Band frequencies, the BCD536HP can monitor aviation, marine, weather channels as well as public safety.
Pros:
OLED display
DMR/PMR radio mode
Background OLED illumination
6.5x telescope speaker
Cons:
Price too high
Inferior design
Best Police Scanner App
Scanner 5-0 may not be the perfect fit for those who are serious about monitoring a police scanner, but it serves as an affordable option for individuals who wish to listen in occasionally.
Once installed, this app enables users to search for feeds by state, county, or even country, and then directly listen to the selected feed on their smartphones.
Additionally, the app is beginner-friendly, featuring a key that assists in decoding police codes.
This app is particularly useful for homeowners who may not regularly tune into a police scanner but want to stay informed when unexpected events occur, such as multiple police cars arriving in their usually peaceful neighborhood.
Unlike conventional police scanners, Scanner 5-0 allows users to listen to emergency service transmissions from around the world, regardless of their location.
The app can be downloaded and used for free, although doing so comes with ads. For a $2.99 fee, users can enjoy an ad-free experience and access extra feeds.
Pros:
Free to download and use
Access to transmissions from across the globe
Compatible with both Apple and Android smartphones
Cons:
Limited to frequencies included in the app's database
Buying Guide: Choosing the right scanner!
Police scanners are used to monitor and communicate with emergency personnel. They come in handheld and desktop models, and vary in price and features. When purchasing the best digital police scanner, it is important to consider how often it will be used and what features are most important to you.
Some factors to consider include the number of channels the scanner can monitor, weather alerts, frequency bands and whether the scanner can be programmed to scan specific channels.
Purpose of scanner
Scanners can help organizations communicate with each other and stay up-to-date on any potential dangers that may arise in their area. Consider your needs before making your purchase and you'll be able to find the perfect scanner for you!
Portability
You should know that some police scanners are designed to be more portable while others are not. If you're looking for a way to take your scanner on the go, then you'll want to find one designed for these purposes.
Budget
When it comes to choosing the best police scanner, you need to consider your budget. Police scanners can be expensive, but there are a few affordable models available. You should also consider the features that you need. If you just need a basic scanner, then a less expensive model will work. But remember, any scanner will help you get started.
Digital or analog reception
Digital police scanners can be a great option for anyone who's willing to invest in the high-technology, but analog models are cheaper and just as effective.
Analog scanners work by picking up signals through an antenna and degriding them in order to decode audio and locate where it came from.
Digital radios, on the other hand, detect noise in their environment using an FM system with digital readouts of frequencies rather than individual channels like antennas usually do.
This includes all sounds in its range rather than specific ones – such as only local law enforcement chatter if your goal is finding criminal activity in your area (and not listening to chatter across state lines).
Number of channels
When deciding on the number of channels, consider what it is that you really want to listen to. If you are not interested in listening to several different agencies at the same time, then you can opt for a scanner with fewer channels. With this type of scanner, you will be able to monitor only one channel at a time. There are some models that have as few as 20 channels, which can be a fantastic choice if you want to keep the cost of your scanner low.
On the other hand, some people prefer a police scanner with a large number of channels. This type is ideal for those who want access to several frequencies at once, and do the kind of surveillance the police do. For example, if you are interested in listening to an area where there is a high concentration of criminal activity, then consider buying a police scanner with 200 channels or more.
Extra features
When choosing a police scanner, it is important to consider the additional features that are available. Some of these features may include trunking capabilities, digital voice recording, and weather alerts. Additional features will usually impact the cost of the scanner, but in many cases they are worth the added expense.
Trunking capabilities allow for real-time scanning that lets you listen to nearby public safety communications without having to worry about missing critical information. Trunking also makes it possible to break through busy channels with priority scan that automatically tunes to important channels.
Digital voice recording is a feature that can be invaluable if you have a scanner with this capability. If the police in your area use digital radios, they will most likely transition to digital voice recording in the near future. You need a police scanner that has this capability so you don't miss anything during the transition from analog to digital.
Weather alerts are an important feature to consider if you live in an area where weather conditions can change rapidly. With weather alerts on your scanner, you will be able to stay aware of everything happening with the local radar and weather warnings.
Conclusion
Police scanners are a vital piece of equipment for security officers and first responders. The armed forces, the police, and fire departments all use police scanners.
By monitoring emergency frequencies, these devices allow responders to get to incidents quickly and effectively.
While civilians can use police scanners as well, they should be aware of the laws that govern their use.
Hopefully, this In-depth guide on police scanners helped you choose one for your job!
Frequently Asked Questions
What is the very best police scanner?
The very best police scanner varies depending on your needs and preferences. Some top models include the Uniden BC75XLT, Uniden BCD436HP, and Whistler WS1065. These scanners offer advanced features, digital capabilities, and extensive frequency coverage.
What is a decent police scanner?
A decent police scanner should have clear audio, reliable reception, and easy-to-use controls. Some good options for budget-friendly police scanners are the Uniden BC365CRS, Uniden BC75XLT, and Whistler WS1025.
Can I listen to my local police with a scanner?
Yes, you can listen to your local police with a scanner. However, it's important to verify the type of radio system used by your local law enforcement (analog, digital, or trunked) and choose a scanner that is compatible with that system.
Does anyone program police scanners?
Many people program their police scanners to access specific frequencies and channels. You can either manually program your scanner or use software to automate the process. Some retailers also offer programming services for an additional fee.
What to look for when buying a police scanner?
When buying a police scanner, consider the following factors:
Compatibility with your local radio systems (analog, digital, or trunked)
Frequency coverage
Ease of use and programming
Audio quality and sensitivity
Size and portability
Additional features like GPS, weather alerts, and recording capabilities
Are police scanners becoming obsolete?
While some police departments have switched to encrypted radio systems, making it difficult to monitor their communications, police scanners are not becoming obsolete.
Many law enforcement agencies still use unencrypted systems, and scanners continue to be useful tools for monitoring other emergency services, such as fire departments and EMS.
What is the best frequency for police scanner?
There isn't a single "best" frequency for a police scanner, as the frequencies used by various agencies vary depending on location and organization.
To find the frequencies for your area, you can consult online resources like RadioReference.com or obtain a local frequency guide.
What radios do police use?
Police departments typically use professional-grade radios designed for public safety use. These radios often operate on VHF, UHF, or 800 MHz bands and may utilize analog, digital, or trunked systems. Popular brands include Motorola, Kenwood, and Harris.
Can digital scanners pick up cell phones?
No, digital scanners cannot legally pick up cell phone communications. Cell phone frequencies are encrypted and protected by law to ensure privacy.
What is the best Apple police scanner?
There isn't a dedicated Apple police scanner device, but there are several highly-rated police scanner apps available for iOS devices.
Some popular options include Scanner Radio, Broadcastify, and 5-0 Radio Police Scanner. These apps allow you to stream live audio from various emergency services, including police, fire, and EMS.