POLICE TRAINING ACADEMY IN ALABAMA – QUALIFICATIONS TO BECOME A POLICE OFFICER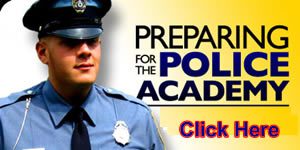 The hiring process for a position as a police officer in Alabama is long and tedious, but if you eventually get the nod, the wait will be all worth it.  Because so much time goes into this process, you should be certain that police work is what you want to do for the rest of your life. If you are just experimenting and not quite sure if police work is for you – don't apply.
One of the more mentally challenging aspects of the police officer selection process is the police academy. The police academy is tough in any state but it's especially tough in Alabama. That's why if you are out of shape or overweight, you should wait until you more physically prepared before applying. It's really that simple.
If you are mildly to moderately overweight, watch this training video on how to lose weight fast. I'm only recommending this to overweight recruits. If you are in decent shape, you can always improve by following a police specific workout guide. Below is a list of all the requirements needed to enroll in the Alabama police officer training academy.
Alabama Police Academy Requirements and Alabama Police Officer Qualifications
Applicant must provide High School Diploma or GED certificate.
Applicant must possess a valid Alabama driver's license
Applicant must be at least 21 years of age.
Applicant must be a citizen of the United States.
Applicant cannot have any felony convictions in any State or be under indictment or have a pending case. (Note: a pardon does not nullify a conviction.)
Applicant cannot have a misdemeanor conviction involving domestic violence or moral turpitude or have a pending case regarding such.
Applicant who has been a member of the armed forces of the United States must provide proof of honorable discharge.
Applicant shall be a person of good moral character and reputation. A background investigation will be conducted.
Applicant will be required to pass a physical agility/ability examination.
Agility course involves:
A timed run of 150 yards while completing the below listed requirements.
Pushing a vehicle on a level surface for 15 feet. (Running for 50 yards)
Climbing a 6 foot fence. (Running for 50 yards)
Climbing through a 2 foot square window frame. (Running for 25 yards)
Walking a balance beam for 15 feet. (Running for 25 yards)
Dragging a weighted object (165 lbs) a distance of 15 feet.
The above 7 requirements must all be completed within 90 seconds.
Ability portion involves:
Completing 25 sit-ups in 60 seconds.
Completing 22 push-ups in 60 seconds.
Completing a 1.5 mile run in 15 minutes and 28 seconds.
Applicant will be required to take a written examination.
Applicant will be required to submit to a psychological test.
Applicant will be require to take a polygraph examination to determined the truthfulness of answers provided on pre-employment booklet submitted with application.
Applicant shall be certified by a licensed physician designated by the City of Decatur Personnel Board.
Here's a complete list of the state approved law enforcement training academies in Alabama. If you want information on tuition, physical fitness test, and the curriculum course exams. Contact the facility directly below.
ALABAMA ADVANCED CRIMINAL JUSTICE ACADEMY
740 Mildred St
Montgomery, Alabama 36104
Phone: 334-240-4824
Fax: 334-240-4539
ALABAMA CANINE TRAINING CENTER
29 Rice Valley Rd Ne
Tuscaloosa, Alabama 35406
Phone: 205-391-2488
Fax: 205-391-2492
ALABAMA PEACE OFFICERS STANDARDS & TRAINING COMMISSION
472 Lawrence St Ste 202
Montgomery, Alabama 36104
Phone: 205-242-4047
Fax: 205-240-3217
BIRMINGHAM POLICE ACADEMY
401-6th Ave S
Birmingham, Alabama 35205
Phone: 205-254-6356
Fax: 205-254-6546
CRIMINAL JUSTICE TRAINING CENTER
349 Ave "c" Craig Field
Selma, Alabama 36701
Phone: 334-874-6668
Fax: 334-874-6669
HUNTSVILLE POLICE ACADEMY
2033 Airport Rd Sw #b
Huntsville, Alabama 35801
Phone: 205-883-3604
Fax: 205-883-3670
MOBILE POLICE ACADEMY
1251 Virginia St
Mobile, Alabama 36604
Phone: 205-434-7420
Fax: 205-434-7616
NORTHEAST ALABAMA POLICE ACADEMY
Rm 220 Brewer Hall
Jacksonville, Alabama 36265
Phone: 205-782-5318
Fax: 205-782-5317
UNIVERSITY OF ALABAMA LAW ENFORCEMENT ACADEMY
PO Box 870388
Tuscaloosa, Alabama 35487
Phone: 205-348-5831
Fax: 205-348-5299