Are you looking for a police exam study guide to help you prepare for the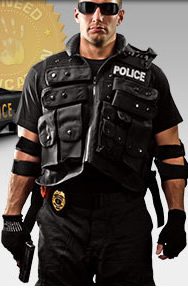 MDPD (Miami-Dade Police Department) entrance exam? If yes, you've landed on the right web page. Miami-Dade County PD is one of the best law enforcement agencies to work for in the entire southeastern section of the United States. Not only does MDPD (formerly known as Metro Dade Police Department) have a great entry level compensation package for new recruits, but you'll be blessed with a good health insurance plan and dental, as well as a very competitive retirement package.
The Miami Dade County PD Civil Service Test:
The  Miami-Dade PD entrance exam is simply a tool that many law enforcement agencies use to filter out unqualified applicants. The problem with the test is that everyone who fails is not necessarily a bad applicant. They maybe unprepared but are certainly not bad candidates. I've been a cop for many years now and some applicants who I believed would have made good cops got the axe prematurely because of a poor score on the test. This definitely has to change and this article is aimed at doing just that. The Law enforcement profession deserves the best of the best.
That is why I don't classify those individuals who fail the test as bad candidates. I believe they are individuals who simply took the test too lightly and failed to utilize the overabundant resources available to them. One of the most obvious resources that seems to always get overlooked is a police exam preparation guide. A study guide of any sort will generally increase a person's chance of being successful on a test. That does not just apply to the police exam but for any test. That's why it is mind-boggling that more recruits don't take advantage of a police exam book. These guides are readily available over the internet, bookstore and/or the local library.
Learn About the Miami-Dade Police Department (MDPD) Civil Service Test ?
As you probably know, the MDPD civil service exam is an entry-level basic skills test that  ensures candidates possess the basic cognitive skills necessary to successfully perform the task of a police officer. The exam is a valid, job-related test designed specifically to measure basic skills like arithmetic, reading comprehension, grammar, memory recognition, incident report writing, and more.
Benefits of a police exam study guide:
Access to Practice Police Exams – It is time to stop guessing and find out what questions are on the exam.
Discover the exact topics on the exam and their purpose – Getting the right answer is easier when yo u know what they want to hear
How to answer trap questions – Every exam will throw in questions to slow momentum and disqualify you. Learn how to identify them and answer them.
In Depth Analysis of the Toughest Questions – Instead of just getting an answer key, you're going to get a full analysis.
To make things really easy for you… Here's what I've decided to do…
Click This Special Link Right Now To Download Your Police Exam Study Guide!